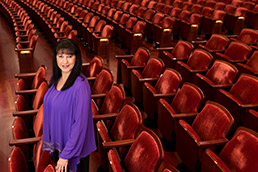 Tania Castroverde Moskalenko (IBJ Photo/Eric Learned)
Tania Castroverde Moskalenko does not remember a time when the arts weren't a central part of her life.
"After we moved from Cuba to the U.S., when my parents bought their first home, I was maybe 8 years old," she recalled. "But I still remember the truck arriving that day. The house was empty and the first thing that came through the door was a piano." A friend's dance recital solidified her interest. "I was a little girl mesmerized by everything—the costumes, the music, the lighting."
She's still as passionate about what she sees on stage at the Palladium, the anchor of the Center for the Performing Arts, whose management she took over in 2012. Far from seeing the arts as elitist, she believes they are an agent for community building.
"With the arts," said Moskalenko, "people come together from all walks of life, economic structures, all ethnicities, and different languages to enjoy an event."
She brought to the center experience as a performer, company director and facility operator. In addition to running performing arts centers, she was a dancer and ran her own contemporary dance company.
Her experience impressed the center's search committee, not just artistically but fiscally. She inherited a $500,000 deficit at Tennessee's Germantown Performing Arts Center. In seven years, she managed a $300,000 surplus, doubled corporate support and quadrupled grants. She also grew that center's education and outreach programs, something she's committed to repeating in Carmel.
"One of the things that came out of our strategic plan is to focus more on family shows and community engagement," she said. "We are known for the artistic excellence of what we present. But we have families who don't see us as a place to bring their kids. So we have really expanded our family shows. And we've added a new program, Peanut Butter and Jam, for 1- to 7-year-olds."
She's proud of the arts passion she's seen kindled in her own children, including three grown daughters from her first marriage.
"They have grown up to be strong and independent women," she said. "As a mom, you always think about what you aren't doing. But they were watching what I was doing. Taking on leadership roles, being a part of boards. They got that sense of responsibility to give back. And they are all doing great. I hope my 5-year-old twins will learn the same lessons."
While much of what Moskalenko will implement at the center comes from the strategy she helped develop, she's also open to the unexpected. A ukulele class arranged in preparation for a performance by uke virtuoso Jake Shimabukuro proved popular, so the center continued it.
At a staff brunch, someone at her table suggested a book club and Moskalenko leapt at the idea. The Palladium Bookies was soon formed. Its first meeting attracted 75 people (it's now capped at 50) who met in 10 rooms of the Palladium to discuss a select arts-related book.
"Not everything works," she admitted. "And that's OK. You have to swing that bat an awful lot of times to hit a home run.
"My favorite quote," she said, "is, 'Leap and the net will appear.'"•
 
Please enable JavaScript to view this content.