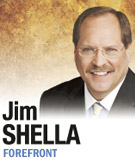 Twenty-fourteen will be a year of love and politics in Indiana.
At this stage, it appears the dominant issue from the beginning of the legislative session to the November election and beyond will be the marriage amendment, the proposed addition to our state constitution that would permanently ban gay marriage. It's about who you can love, or at least, whose love is legally recognized.
There's a lot of conflicting information out there about how the public feels about it. At least at first glance, it seems to be conflicting. Let me help explain some of it.
A recent poll by the Indiana Family Institute (supporters of traditional marriage between a man and a woman) showed that the public supports the marriage amendment by 62 percent to 39 percent, a solid majority. It's a poll conducted by a GOP pollster familiar with Indiana, Chris Wilson, and it measured likely voters. That's a key and I'll get back to that in a minute.
A recent poll by Freedom Indiana (advocates for gay marriage) showed that the public opposes the marriage amendment by 46 percent to 43 percent. It was conducted by Christine Matthews, a highly regarded pollster who did all the survey work for Mitch Daniels. She measured registered voters, and that's a very different sample.
Late last year, the WISH-TV/Ball State Hoosier Survey found that just 38 percent supported the marriage amendment with 54 percent opposed. The survey was conducted by Pew Research, another highly regarded source of information. Pew didn't use a voter screen. That means that the poll measured the feelings of all adults in Indiana, a sample used because the public policy created by the marriage amendment will affect everyone.
(There will be a new Hoosier Survey out soon that will measure adults and registered voters in separate samples.)
Here's what you can draw from all of this: The public is more liberal on this question than voters are, and registered voters are more liberal than likely voters. And, of course, everybody now has scientific data that they can point to in fundraising efforts.
Ah, fundraising! Here's why that's important. If the marriage amendment is approved by the Legislature (and that's a more conservative bunch than just about any sample), there will be a statewide referendum on the marriage amendment in November 2014.
That referendum will attract more attention, by far, than the race for the secretary of state that will be at the top of the ballot. Freedom Indiana is promising what it calls "governor level funding" for a television campaign.
What's that mean? Let's go back to the Indiana Family Institute, where head honcho Curt Smith has established a political action committee. He plans to raise about $5 million for TV ads to drive marriage amendment supporters to the polls. He expects his opponents to raise $15 million, three times as much.
(Freedom Indiana has already studied the ads used effectively in Minnesota last year to defeat a similar referendum.)
That's the sort of spending that could have a big effect on the number and thinking of likely voters.
One Republican legislator has told me he worries the amendment will produce a turnout of young and liberal voters of the sort Barack Obama produced in 2008.
That means a poll of likely voters means little at this point.
A poll of registered voters means even less.
We're going to have to play this game to see who wins.
Don't you love politics?•
__________
Shella is WISH-TV Channel 8's political reporter as well as host and producer of the Emmy-nominated "Indiana Week in Review." Send comments on this column to ibjedit@ibj.com.
Please enable JavaScript to view this content.