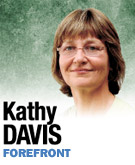 We have a disconnect in Indiana that we need to fix.

Ask Hoosiers what makes us special and likely you will hear about Hoosier hospitality. People get a warm welcome, a fair shake and an equal shot at a good future. You'll hear that hard work, fair play and simple reasonableness are valued more than making waves or scoring points (except in basketball, of course.)

But lately people are moving the welcome mat off the front porch.

Start with House Joint Resolution 6, the leader in inhospitable messages. The constitutional amendment is born of deep religious conviction, but it is unfriendly and unwelcoming and unreal.

Our constitution is about our core rights as citizens and how we organize for the common good. It's not for writing super laws and making permanent handcuffs.

Compromise is not giving up on conviction, but incorporating a larger view.

If not marriage, what? Access to health care for partners? Inheritance and medical next of kin? Adoption and tax benefits? The second sentence of HJR-6 puts all those at risk.

Let's be about new rights, not hurdles to family security.

Recently, I was on a panel with former Deputy Mayor Michael Huber, who now heads the Indy Chamber. Much of the discussion was about attracting employers to our city. Huber said the competition for corporations is no longer based on a comparison of incentives and taxes and costs of doing business. Instead, employers locate where their people want to live—is the community welcoming?

The Indy Chamber took a strong and impressive stand against HJR-6, telling us that equality is not an optional amenity.

If the fight over HJR-6 continues, Indiana will be on the national stage for a year looking closed-minded. On network news, cable talk shows and the pages of national publications, people will get an overriding message that in Indiana, non-traditional is not welcome.

That's not the coverage our business and government leaders need as they work to make us a global city in the competitive world community.

Ask Hoosiers about the discord in D.C. and they'll shake their heads and say D.C. just needs a little Hoosier common sense and fairness.

But lately we're not paragons of public service. In fact, a lot of poor-loser antics are under way. Our kids are the losers.

Glenda Ritz soundly defeated Tony Bennett. It made all the papers. It was a surprise to many, but this was not a Bush-Gore nail-biter—Ritz won big.

How have her opponents responded? A hand across the aisle to work on behalf of our kids' education? Just the opposite.

Gov. Pence and our supermajority Legislature are working their end runs around voters—stripping powers, stacking boards, taking responsibilities away that they aren't prepared to handle—anything to avoid working with the Democratic state superintendent for whom more than 1.3 million Hoosiers voted. More than who voted for Pence.

We want to attract, keep and grow bright and committed people. We want them to get involved, move our city and state forward, become our next leaders. Who will put themselves out there if we ignore what voters ask for? Who wants to live here if we stand against equal rights?

Hoosier hospitality is not quaint spats and bustles and a butter churn kind of thing. It's the lifeblood of Indiana's being great. Let's hold ourselves to it, even when it's hard. If we all will, Hoosier hospitality will get easier again.

Everyone is welcome and ingenuity is valued. Hoosier hospitality is rule one.•

__________

Davis is a former Indiana lieutenant governor who owns and operates the Indianapolis technology firm Davis Design Group LLC. Send comments on this column to ibjedit@ibj.com.