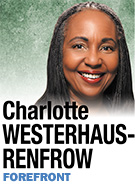 If I had a dollar for every time I read a news article or post about a public official getting busted for sending or exchanging inappropriate emails and texts to fellow officials, colleagues and subordinates, I'd be well on my way to financial freedom.
Day in and day out, one new headline after the next exposes the unprincipled exploits of an official who used a governmental agency or entity's electronic mail system to send and exchange messages of a sexual nature or that contained off-color language or jokes.
What's going on here?
Many social commentators are quick to report that there is a silver lining of sorts. Our country's history reveals that elected and public officials and administrators, as well as business and civic leaders, have behaved badly since well before George Washington was president.
Other critics staunchly point an accusatory finger squarely at the good-ole-boys network of power and influence. They claim that male-dominated exclusionary practices—including offensive language—are still prevalent in the workplace and reinforce patriarchal systems, customs and habits that consciously and unconsciously keep women in their place.
But to be honest, women do it, too. It can be argued that fewer women offenders make the headlines because there are smaller numbers of women appointed to public leadership positions and elected to political offices. Perhaps the proverbial career-related glass ceiling not only keeps women from climbing the ladder, but also conveniently sequesters the public's knowledge of lower and mid-level female officials and public administrators who, too, behave badly.
Are our elected and appointed officials clueless?
Maybe.
But not likely.
Everyone should know that whatever you send or open is not private. Deleted messages can be recalled. Improper messages can immediately go viral or come back to haunt the sender and the receiver for years after the messages were transmitted.
Email transmissions exchanged from and between government or public officials via agencies' electronic mail systems are not like private, person-to-person communications. These types of emails are considered public documents, open to the public's view. Moreover, email exchanges can be used in a lawsuit in the same way as any written letter or memorandum.
But the crux of the issue is not about avoiding lawsuits and doing things right. It is really about doing the right thing.
In this day and age, do some of our elected and appointed public officials really believe that sending and sharing lewd emails is doing the right thing? Let's hope not.
However, if they do, these officials need to get it. The public rightfully expects them to adhere to the highest values of ethics, maintain standards of uncompromising integrity, and conduct themselves in a professional manner. They need to know that public confidence is eroded when leaders behave contrary to ideals of impartiality, temperament and fitness.
Elected officials and appointed pubic officials are responsible for the welfare of the citizens—all of them. This includes an obligation to take care of the public's interest in all their official actions, including the sending and receiving of emails on governmental agencies' systems.
Time after the time, citizens are making it crystal clear—sending and exchanging emails and texts that contain discriminatory, disrespectful, inappropriate, lewd and off-color jokes and language by elected or appointed public officials is not like sharing a bad joke at a party.
It is not funny. It is not amusing. It is not acceptable.•
__________
Westerhaus-Renfrow is a senior lecturer at the Kelley School of Business at IUPUI, president of ChangePro LLC, and a former vice president of diversity and inclusion at the NCAA. Send comments on this column to ibjedit@ibj.com.
Please enable JavaScript to view this content.