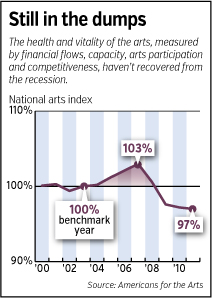 As we all know, the Great Recession that began in 2008 was the worst economic disaster to hit America and the global economy since the Great Depression. While the Great Recession is technically over as measured by economists, millions of Americans are still out of work or have stopped searching for work, and some sectors of the economy have not recovered.
What about the arts? Clearly, much of the information may be anecdotal, but a conversation with a few experts yields comments and statistics worth mentioning.
Americans for the Arts just released a major study on the National Arts Index (in which Indianapolis participates) that indicates the national arts community continues to slowly recover from the Great Recession, but is still not back to levels attained in 2007, the year before the recession began. In 2007, the National Arts Index had a score of 103, and by 2011 it had dropped to a low of 97.
The recovery now provides the arts community with opportunity to demonstrate how valuable it is to the quality of life in the region and how essential it is that both the private and the public sectors continue to support the arts.
The recession isn't quite over for the arts and, yes, the landscape has changed.
There remains a long, slow climb to reach levels of success achieved before the recession.
We need to leave those previous goals behind and focus on the future by establishing new benchmarks for measuring success, because we never really will get back to where we were.
From my vantage point and from the conversations I have had with colleagues, the local arts community has improved since the onset of the recession but is not back to pre-recession days in terms of ticket sales, donations and the willingness of organizations to develop new artistic product.
A fear of risk taking, and an inappropriate focus on return on investment ("Is this play or concert going to make money?") has seeped into the business model, causing arts leaders and board members to lose sight of their mission.
If one thing is clear, it's that a focus on marketing, branding and new programming will always yield positive results. I challenge the arts community to develop new innovative techniques for driving ticket sales and for measuring consumer satisfaction—key items that can help an organization weather the next recession.
It's time to commission new bold work rather than rely on old "war horses" from the past.
The recession has provided a golden opportunity to breathe new life into the cultural landscape. Now is the time to create a new, robust future for the arts community.•
__________
Libman is president of The Libman Group, and co-creator and co-host of the radio show "The Voice of the Performing Arts," which appears weekly on WICR-FM 88.7. Send comments on this column to [email protected].
Please enable JavaScript to view this content.