In "RED," the Eiteljorg Museum of American Indians and Western Art's biennial contemporary art exhibition once again pulls a set of diverse, interesting artists into a compelling show, with each of five artists demonstrating a unique voice and vision.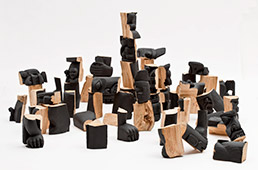 Nicholas Galanin's "I Think It Goes Like This?" (Courtesy of Eiteljorg Contemporary Art Fellowship Acquisition Fund)
While Nicholas Galanin's bearskin rug/U.S. flag hybrid, "The American Dream is Alive and Well," is likely to garner the most attention, he's no one-trick artist. "I Think It Goes Like This?" offers pieces of totem poles, partly painted black and arranged in a way that speaks to the impossibility of re-creating the past. "No Indians or Dogs Allowed" is a series of photographs that places the title neon sign in various locations. In the most striking one, the sign is nearly lost in a window packed with beer signs. And I'm still wrestling with different interpretations of his "I Looooove Your Culture! Fine Wood Working," a yellow cedar sculpture that seems to mock anglo fetishizing of Native American culture.
Julie Buffalohead offers up a series of mixed-media works where a young woman, wild animals and toys navigate a playful, dangerous world. In "Hostage," a coyote threatens to break a unicorn's horn while animals, some realistic and some toys, look on helplessly. In "The Love Objects," a real rabbit holds a toy rabbit who, in turn, grasps a human doll. In all, the horizon-less backdrop provides a dreamy context.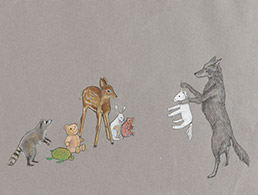 Julie Buffalohead's "Hostage." (Courtesy of National Museum of the American Indian, Smithsonian Institution)
Photographer Meryl McMaster is well represented by two sets of work. The first, grouped as the "In Between Worlds" series, fuses human and animal while avoiding the clichés of such Dr. Moreau-like visions. The beauty of the butterfly-laden "Anima" stands out starkly and sadly against a diffused, snowy backdrop, while "Buffalo," "Owl" and others gain an edge from their bold, black netherworld context.
Her "Second Self" series also sets portraits against black backdrops, but with some dramatic twists. Her models are slathered in white and each framed by a wire creation. These wireworks were crafted by the artist based on self-portraits drawn by her subjects, who were instructed to draw themselves each with a single line, without looking. Sound gimmicky? The results are dramatic, confrontational, intimate and fascinating.
Rounding out the show: Lawrence Paul Yuxweluptun's totem-image-inspired paintings and drawings—sometimes used as masks, sometimes mechanized, sometimes melting—stand in marked contrast to his large-scale abstract ovoid paintings. And Shan Goshorn weaves text into baskets, compelling us to search for meaning.
'The Odd Couple' at Actors Theatre of Indiana
The premise of this Broadway smash is simple. Neat freak Felix, tossed out by his wife, moves in with slob friend Oscar Madison, whose wife threw him out not so long ago. The two attempt to navigate life together, and high hilarity results.
Credit is due Neil Simon, of course, whose plays have seemingly fallen out of favor in the theater world. (I can't think of the last one professionally produced here.) As illustrated in Actors Theatre of Indiana's production, though, the man is a master at creating specific, very funny characters who, when smartly directed and acted, feel like they have lives both onstage and off. 
That's the case here. Oh, Bradley Reynolds' Felix might over-enunciate a bit too much for the intimate Studio Theater. And Don Farrell inherently doesn't fit the craggy Oscar familiar from TV and film. But together they deliver both the punch lines and the underlying affection that keep the two from actually strangling each other. They come across as they should: as friends who drive each other crazy, not as stock characters manipulated by a writer. 
The poker buddies, essential to getting the show off on a fun footing, are terrific. I was going to highlight Darrin Murrell as the dyspeptic Murray, but then I smiled thinking about Jeremy Grimmer's awkward Vinnie … and Adam O'Crowe's fed-up Speed … and Dave Ruark's chain-smoking accountant Roy. All big fun.
And then there are the Pigeon Sisters, as personified by Katy Gentry and
Carrie Fedor (with the assistance of costume designer Margaret Ozemet). Unique creations, both, managing to be goofy, sensitive, oddly sexy and, most important, very, very funny in their two showcase scenes. If only Simon had written a spin-off for them …
John Lithgow's 'Stories from the Heart' at Clowes Hall
Is it sacrilege to say John Lithgow's solo show Nov. 9 was a bit of a snooze? While I admire the fact that the accomplished stage and screen actor has embraced storytelling as his on-tour medium, neither of the tales he chose was nearly as fun as he seemed to believe they were.
Much more interesting were his personal stories—the context he gave for the show, weaving evocative memories of story times shared with his theatrical parents. All that, though, seemed to be used up at the end of the first act with the second feeling like a tacked-on coda meant to stretch the evening.
A lively Q&A with the "Dexter"/"The World According to Garp"/"M Butterfly" star—or even a few of his children's songs—might have energized the room more than the over-long, pay-off-free read of Ring Lardner's "Haircut."•
__________
This column appears weekly. Send information on upcoming arts and entertainment events to lharry@ibj.com.
 
Please enable JavaScript to view this content.