The long-legged blonde in a revealing chiffon pantsuit looked like she just arrived from Paris, via New York's LaGuardia.
This was not your average arriving passenger at Indianapolis International Airport, but rather model Alison Gingerich. She and fashion photographer Polina Osherov spent 10 hours at the airport for a spread in Pattern magazine.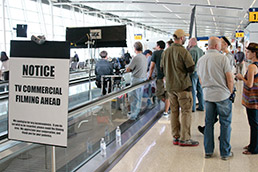 A commercial in 2011 for Bluegrass Cellular was shot on the terminal's people movers. (Photo courtesy of Road Pictures)
"Love it. Love the space. A lot of great angles and textures and the way the light filters in," Osherov said of
Indianapolis International's terminal, though some male passengers nearby loved the setting for different reasons.
The shoot was one of about a dozen in the last few years for everything from magazine covers to television commercials to pilots for short films.
"Who knows? Maybe a feature film, someday," said Carlo Bertolini, marketing director—and unofficial studio boss—for the Indianapolis Airport Authority.
The funny thing is that the authority, which never saw a non-airline revenue opportunity it didn't like, isn't promoting the 5-year old, architecturally adventurous terminal as a location for filming.
"It's kind of word-of-mouth. We've been pretty easy to work with," Bertolini shrugged.
He reckons the airport has collected $15,000 to $18,000 in revenue from the filming and photography sessions. The authority asks crews to reimburse it for administrative costs such as for pulling an employee off regular duties to accompany a film crew to who-knows-where at the 7,700-acre airport.
Filming at Indianapolis International presents some interesting challenges. For the authority, its employees have to make sure the lighting and cameras and other gadgets plugged into outlets don't trigger circuit breakers and possibly disrupt flight operations.
Also, there has to be insurance in place in case a gaffer fails to secure a power cable that trips Grandma as she disembarks from seeing the grandkids in Greensboro.
And those airport passengers who move to-and-fro at a cadence that screams vitality are the same passengers who can screw up a shot.
Babies scream. Tots pick their noses. And big Uncle Buck shows skin when he bends over to fetch his suitcase from the baggage carousel.
"It's not the easiest location," said Erin Newell-Schneider, director of the state's Film Indiana initiative, who said crews might otherwise request another location, all things being equal. Often, the need for an aviation-related environment "is the driving force" for the airport.
Indeed, the new terminal's people movers were ideally suited for a commercial Indianapolis-based Road Pictures shot for Bluegrass Cellular, in 2011.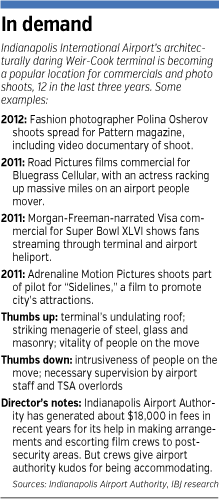 The scene was that of a phone user riding the people mover as images of America appeared along the way (a cowboy, the Golden Gate Bridge, etc.).
Making things more challenging, the Road Pictures crew had to go beyond security checkpoints, to film in the gate area.
"They were able to be very accommodating," Road executive Greg Malone said of the airport staff. "They made dealing with the [Transportation Security Administration] painless."
One upside of the new terminal's not yet operating up to its built capacity is that there are some unused gates that can be used for filming.
The airport was also a setting for a pilot film Steve Marra, of Adrenaline Motion Pictures, shot in 2011 as a way for local visitors' groups to promote the city and various attractions ahead of the 2012 Super Bowl.
Actress Caroline Couzzi, playing a chic French businesswoman who flies into town, walks through the terminal and waits for a taxicab, on the lower level. Somehow, she's even able to cradle a lit cigarette without airport firetrucks and a SWAT team storming the set.
Unfortunately, the contract to shoot the series never came, but Adrenaline's work helped underscore that the Indianapolis airport is a useful, if not appealing, backdrop.
"It's one of the great things about this city and the state in general. There are tons of fabulous locations that can represent all types of environments. About the only things we can't do are the arctic or the desert," said Marra, a film graduate of UCLA.
Indianapolis International has some distinct architectural advantages other airports don't. It has tons of natural light, with its undulating roof capped at both ends with sweeping glass panels. It screams modern, sophisticated and economic vitality.
Though beer maker Heineken recently made a commercial prominently featuring the inside of a JFK Airport terminal, in New York, Indianapolis International's is arguably more svelte.
"In airport years, it's still an infant, if you think about it," Bertolini said.
In fact, Bertolini said visitors from outside the United States who visited the terminal inquired about filming here, although nothing has yet come of it.
It's the subtleties of the terminal, however, that intrigued Osherov the more time she spent time dragging airport staff around. For example, she said they graciously allowed her crew to set up in the baggage room, where its maze of conveyors proved to be an unexpected gem of industrial art.
Osherov even discovered a women's rest-room that was a photographer's dream—with lots of metallic wall panels and doors that allowed model Gingerich to appear like she was in a "spy thriller" novel, as if she were being pursued by an adversary.
The airport lost another potential filming location when the old terminal was demolished earlier this year to present a clean slate for potential new aviation-related development.
"I was kind of hoping to have someone shoot a zombie movie at the old terminal," Bertolini said.•
Please enable JavaScript to view this content.