WTHR-TV Channel 13 enjoyed a spike in its already-No. 1 evening newscast ratings in September when bringing onboard former WISH-TV Channel 8 meteorologist Angela Buchman.
But it was WISH and its weather team led by Buchman's replacement—Robb Ellis—that reaped the ratings updraft during Sunday's tornado outbreak in Indiana.
WISH averaged a 13.5 rating in the period roughly between 2 p.m. to 5:30 p.m. during which 23 tornadoes raked Indiana, versus an average 10.9 for WXIN-TV Fox59 and a 9 rating for WTHR. WRTV-TV Channel 6 averaged 4.5. A ratings point is equal to 1 percent of the total TV-equipped households in a market.
What isn't clear is to what extent network sports events airing in the background during the weather coverage drew viewer eyeballs to each station.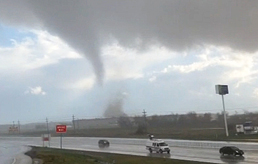 A viewer snapped a photo of a tornado near Lebanon bearing down on a WISH-TV truck (center right). (Image courtesy WISH-TV)
WISH was carrying bits and pieces of the NFL's Ravens-Bears game, while Fox59 had parts of the Redskins-Eagles battle. WTHR had been airing the Formula One U.S. Grand Prix.
"TV news ratings always have been powerfully influenced by the programming leading into and out of a newscast. In this case, I don't think we can dismiss the program running in the background, either," said Phil Bremen, associate professor and news sequence chair at Ball State University's Department of Telecommunications.
Bremen, a former TV newsman, said his sense was that "all the Indianapolis news stations did a dedicated and impressive job" keeping their viewers apprised of Sunday's severe weather. "Other viewers who were sampling the competing coverage may have had the same perception. It may have been the Chicago Bears that tipped the scales."
Whatever the case, WISH earned bragging rights. WISH News Director Steve Bray was quick to point out after hiring Ellis earlier this year that weather wasn't just about one, popular meteorologist—referring to Buchman—but was a "blend of personality and the science behind it."
Ellis worked tornadoes and hurricanes at Fox and NBC affiliates in Wilmington, N.C. and previously was a climate research scientist for North and South Carolina.
To be sure, Ellis and other WISH meteorologists on Sunday reveled in using their latest analytical software that can slice and dice a radar feed like a Ronco Veg-O-Matic can divy a cucumber.
There was, for example, the "debris ball" tool that allowed WISH to show viewers places where objects swirling in the air were larger than raindrops, such as aloft building materials.
"One of the things about Robb is he stays up on the technology," said Bray, himself a meteorologist.
WISH, like most of the local stations, brought in news anchors and dispatched reporters to the field to make the most of newer technology such as cellular-based video units. These consist of a backpack loaded with a wireless phone network capable of transmitting high-definition video.
The units allowed videographers to get closer to the action and transmit, despite high winds and lightning that would have made it hazardous to raise the microwave mast on a news truck to beam back the action.
Despite that, WISH's field crew almost became part of the story when a tornado formed just behind one of its video trucks barreling down a highway, near Lebanon. Bray said the station planned well in advance to position crews out of harm's way, in the southwest corner of storms. But the funnel cloud apparently didn't get the memo.
The drama wasn't limited to the field, as the station also used a handheld camera in the studio to capture its meteorologists at their desks. Bray said the idea was "to bring the viewer into the weather center." It was dramatic, although some viewers may have needed Dramamine.
Some stations jumped in on the precarious weather situation early in the day. WRTV-TV Channel 6 started a dedicated broadcast on the weather at around 11:30 a.m. Sunday, on its 6.2 digital channel known as HTSN.
Like many stations, WRTV had been warning earlier in the week that Mother Nature could threaten Indiana on Sunday afternoon.
Its lead meteorologist, Kevin Gregory, "called me in the middle of the day on Saturday and expressed his concerns about [the need to] alert viewers," said Terri Cope-Walton, news director for WRTV. She said Gregory couldn't sleep and wound up coming to the station on Saturday night.
WRTV also fired up its new media team a day ahead of the storms, posting on Facebook that the situation could become dangerous Sunday and advising people to share the news, said Glen Hale, director of new media at WRTV.
Hale's reporters sat in the station's control room and updated digital platforms during the coverage—as well as passing to the television side some images sent in by viewers over their phones.
WRTV also funneled alerts and updates through its Storm Shield app. From an audience standpoint, "we've had more people on our digital platform than we've ever had," Hale said of the storm coverage.
"This was also a digital outreach of a storm to cover," agreed Kathy Hostetter, news director of WTHR.
Although television stations ultimately are measured by ratings, WTHR racked up strong digital audience that did everything from logging in to view the weather radar to watching live streams of the station's storm coverage, Hostetter added.
WTHR's website for a while included a spoofed photo submitted by a viewer of a tornado bearing down on Lafayette, according to the media blog TVSpy. Not only was the ominous funnel cloud a fake but so were faint images of a UFO hovering above a church steeple and Bigfoot strolling down a sidewalk. TVSpy quoted Hostetter as saying the spoofed photo was later pulled from the station's photo archives.
The storms were the first big test for WTHR's reconstituted weather team. Beside the recently arrived Buchman is newcomer Kelly Greene and full-time status for Sean Ash, a former WISH meteorologist who had appeared occasionally on WTHR. They joined regulars Chuck Lofton and Nicole Misencik.
Station officials for Fox59 did not provide details on its coverage before IBJ deadline.
Clarification: An earlier version of this story did not specify that the spoofed photo of a tornado in Lafayette only appeared in a WTHR online gallery, not during a broadcast.
 
Please enable JavaScript to view this content.