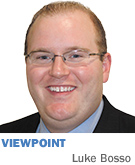 So, you want to run for office. Are you ready?
When I was growing up, like most kids, I worked a summer job. During that time, I used to think if everyone had to work in the restaurant industry, the world would be a better place. I was wrong.
The world would be a better place if everyone had to work on a political campaign. You haven't lived until you walk onto someone's front porch ignoring the "Beware of Dog" sign, knock on their door, and have them slam the door in your face because you tell them you're running for public office.
In 2012, I ran for state representative, and every day since the election I meet someone who tells me they want to run for office, and I look back at them and always say the same thing: "So, you want to run?"
There isn't anything that can prepare you for running for public office—nothing!
When I was running, a number of people told me how I should do everything. Basically, people told me if I didn't do it their way, I had no chance. I had to figure out who had my best interests and whose way I liked the best. Once I decided on that, I could really start.
Your whole life changes; everything you do and say can now be held against you. In a way, by declaring for office, you put yourself on an island surrounded by hungry sharks.
Don't get me wrong, I loved running for office, but there are moments you can never be prepared for. Like someone asking you if you believe in evolution or what religion you practice.
The hardest thing about my campaign wasn't dealing with someone from the other party telling me they weren't voting for me, but people from my own party who wanted nothing to do with me.
It's funny. I would hear that I was too left, too right, too in the middle. I found out very quickly that, no matter what, there is always someone who doesn't want to see you succeed for their own reasons. That can be exhausting.
I thought I knew what hard work was before the start of my campaign, but I had no idea. With help from new political friends, old friends and one fiery intern, we put together a plan that wouldn't allow us to be outworked.
I knew the race was an uphill battle, but even though I knew I might not win, I could still make Indiana better.
Last November, I was disappointed. However, even though I had lost the race, I was still a winner based on what I had learned.
Running for political office isn't about what you'll gain; it's about what you're willing to lose. Are you willing to give up nights with friends, family functions, kids' games, your job and hundreds of other things you had no idea you would miss?
If the answer is no to any of these, you might want to run, but you're not ready.
Will I run again? A part of me wants to, but I know I am not ready.•
__________
Bosso, the ombudsman at Develop Indy, a unit of Indy Chamber, is a Republican who lost the race for Indiana House District 86 to Democrat Ed Delaney. To comment on this column, write to ibjedit@ibj.com.
Please enable JavaScript to view this content.