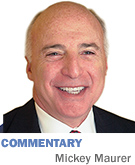 You are employed by the ASCAP Detective Agency. Your Thanksgiving has been interrupted by an urgent request to identify a celebrity whose voice has not been heard since 1998. Use the worksheet to help you organize the clues.
Step One: Solve the clues in column 1 and place your answers in column 2.
Step Two: From each of the answers in column 2, extract a three-letter word according to the clues in column 3. Place those words in column 4.
Step Three: Copy the remaining letters in column 5.
Step Four: Rearrange the letters from column 5 and place them in column 6 to discover hints. You probably will not need to solve for all of the hints to identify the missing celebrity. You can confirm your answer by extracting one letter from each three-word answer in column 4 and rearrange them to form the person's name.
If you require assistance with this assignment, contact Sherlock at mmaurer@ibj.com and go back to your turkey and yams.• Click Here for the puzzle.
__________
Maurer is a shareholder in IBJ Corp., which owns Indianapolis Business Journal.  His column appears every other week. To comment on this column, send e-mail to mmaurer@ibj.com.
Please enable JavaScript to view this content.