Come January, UnitedHealthcare, the second-largest health insurer in Indiana, will have no major-medical policies to sell to individual Hoosier customers.
The pullback from competition by Minnesota-based UnitedHealthcare, which operates its national individual insurance business out of Indianapolis, is a sharp departure from the strategy of its biggest rival, Indianapolis-based WellPoint Inc., which has embraced the new markets created by Obamacare as a big business opportunity.
It's a situation that could help WellPoint expand its already commanding 62-percent market share in Indiana's individual insurance market. Or it could play to UnitedHealthcare's favor if Obamacare ends up saddling WellPoint with significant losses.

Nefouse
"It's a huge deal," said Tony Nefouse, a health insurance broker who specializes in individual policies. "I think having less competition in the marketplace is not a good thing."
UnitedHealthcare is by no means exiting the Indiana individual health insurance market, where it covers about 23,000 people, or 13 percent of the total. The company has offered to renew all those customers on their existing policies before the end of the year, so their coverage will continue into late 2014.
By that time, at least, UnitedHealthcare hopes to have received approval to sell new policies in Indiana that comply with the strict new rules imposed on individual insurance by Obamacare, formally known as the Patient Protection and Affordable Care Act.
"We have filed and received approval to offer new plans in a number of states and will continue to expand into additional states in 2014 and beyond. Indiana remains an important market for us," said Ellen Laden, a spokeswoman for UnitedHealthcare individual business, in an emailed statement.
She added that UnitedHealthcare has not canceled coverage, as many other insurers have, for any of its Indiana customers.
UnitedHealthcare's go-slow approach is playing out in nearly all the 33 states in which it sells individual insurance. UnitedHealthcare is trying to get its 900,000 individual customers in those states to renew their existing policies before the Obamacare rules kick in Jan. 1.
Playing by new rules
The Obamacare rules that start in 2014 require all individual insurance policies to no longer exclude customers based on pre-existing medical conditions. Under the new policies, insurers can charge customers more only because of age or smoking habits, and they cannot set lifetime maximums on medical benefits. Further, insurers can't ask customers to shoulder any more than 40 percent of expected medical costs.
Those rules apply regardless of whether an individual insurance policy is sold on Obamacare's new exchange marketplaces or off of them.
UnitedHealthcare also is taking a cautious approach to the Obamacare exchanges. It is participating in exchanges in only four states. Indiana is not one of them.
"We are somewhat cautious about public exchanges in the near term for a variety of reasons," Stephen Hemsley, CEO of UnitedHealthcare's parent company, explained during a May presentation to investors. "For this market to be sustainable, it needs to have a balanced risk pool, and the composition of that risk pool on the individual side is uncertain at this point."
Hemsley also hinted that UnitedHealthcare didn't have nearly as much to lose as other companies, most especially WellPoint, during the launch of the exchanges. WellPoint insures twice as many individual customers—1.8 million—as UnitedHealthcare does.
In addition, WellPoint has large numbers of small-employer customers that are much more likely to drop their health plans and send their employees to the Obamacare exchanges—because, unlike larger employers, they face no financial penalty for doing so.
So while UnitedHealthcare has taken a wait-and-see approach to the exchanges, WellPoint did massive amounts of market research—running simulations with 55,000 potential customers—and is competing aggressively in the exchanges in all 14 states where it operates a Blue Cross or Blue Shield health plan.
Big opportunity?
Assuming a fix gets worked out to resolve the technical problems on the Obamacare website, HealthCare.gov, that slowed enrollment in the exchanges to a crawl, WellPoint expects to make a killing on the exchanges.
WellPoint's Anthem Blue Cross and Blue Shield subsidiary expects to sign up at least 156,000 Hoosiers in the individual market next year—a nearly 40-percent increase from its current number of individual customers.
And because the Obamacare exchanges will offer federal tax credits to an expected 60 percent of those customers, Anthem expects half of the nearly $764 million in premiums it would collect to be paid for by the federal government.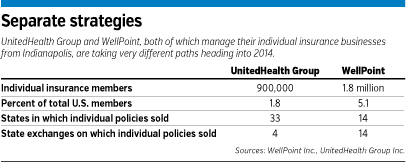 "As the exchanges are evolving, we are realizing more and more each day that density matters and the relationships with the local providers matter," Wayne DeVeydt, WellPoint's chief financial officer, told investors in July. "We are probably better positioned than anybody."
Indeed, UnitedHealthcare is participating in the exchanges only where it has sufficient customers and provider contracts to do so profitably, noted Sheryl Skolnick, a stock analyst at CRT Capital Group.
"What you're seeing is a decision that it's not economic for them to participate in the exchange, given the benefit structure, at this time," she said. "They don't have enough density, they don't have enough resources to commit to the endeavor."
The same outlook explains UnitedHealthcare's cautious approach to individual insurance sold off the Obamacare exchanges.
At the same time, the technical problems on HealthCare.gov have many worried that only sick customers will fight through the problems to sign up for coverage next year. If that happens, insurers could end up with far more medical bills than premiums, which would stain their financial reports with red ink.
That's a risk for WellPoint, but Skolnick said it's an even greater risk for insurers that don't have brand names with nearly an 85-year legacy, as WellPoint does with its Blue Cross plans.
"There's a lot of risk of adverse selection if you're not really a name brand in the market," she said.
In the meantime, Indiana consumers have been left with few choices for individual insurance.
Leaving the market
Nineteen health insurers have left the Indiana market since the Affordable Care Act was passed in 2010, according to data from the Indiana Department of Insurance. Even though most of those companies insured small numbers of Hoosiers, it's not a good trend, said Logan Harrison, deputy commissioner of the Insurance Department.
"It's obviously not good for competition," Harrison said.
Indeed, Indiana ranked among the top 10 for highest premiums on the plans offered in the Obamacare exchanges, out of 36 states participating in exchanges run by the federal government, according to a report by the U.S. Department of Health and Human Services.
That report said higher premiums tended to occur in states with fewer health insurers participating.
Only six insurers have officially filed to sell individual health insurance in central Indiana beginning Jan. 1.
On the Obamacare exchange will be WellPoint's Anthem subsidiary, Fort Wayne-based Physicians Health Plan of Northern Indiana and two Medicaid plans that are now getting into private insurance: Indianapolis-based MDwise Inc. and St. Louis-based Centene Corp.
Off the exchange will be Anthem, Physicians Health Plan, Louisville-based Humana Inc. and New York-based Assurant Inc.
More insurance carriers is always better for consumers, said Nefouse, the health insurance broker.
"We need more carriers to compete, more options to select plans. Because it brings down pricing, or brings up creative plan designs, or different [provider] networks," Nefouse said. But "Indiana's just not a big enough marketplace to come into until they figure out what's going on with health care reform."•
Please enable JavaScript to view this content.