The Indiana Pacers are turning to a Mickey Mouse operation in an attempt to make all Bankers Life Fieldhouse visitors' dreams come true.
In this case, Mickey Mouse connotes world-class, not rinky-dink.
The Pacers recently entered a long-term contract with Orlando-based Walt Disney Co.'s Disney Institute, to polish customer service from top to bottom.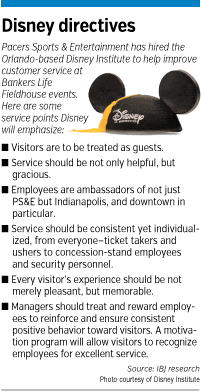 The eyes of team executives from across the National Basketball Association will be watching to see if this deal pays off. The NBA is pushing for a league-wide relationship with Disney, but several other teams are taking a wait-and-see approach.
Pacers executives didn't hesitate to partner with the company known for its excellent customer service, extreme cleanliness and attention to the smallest details at its theme parks.
"We think there's a lot we can learn from a company like Disney," said Rick Fuson, Pacers chief operating officer and executive director of Bankers Life Fieldhouse. "We want our customers to think we go beyond whatever they imagined we'd do in fulfilling their needs and wishes."
That means examining every component of a visitor's experience.

Fuson
"There isn't one aspect of this organization this program won't affect—from the box office to ticket takers, food service, ushers and security," Fuson said.
Although he wouldn't say how much the initiative is costing the Pacers, sources familiar with the Disney Institute's work said an extensive deal will cost a client about $100,000 annually. Though this move is being promoted by the league, the teams will be responsible for covering their own costs with Disney.
"It's a significant investment in terms of the staff, time, dedication and from the financial perspective," Fuson said. "We think the final result will be well worth the cost."
Disney officials say its customer service methods are proven.
"We have evidence first from the sustained success of Disney, but also from a number of clients, their testimonials and case studies," said Disney Institute Programming Director Bruce Jones. "Customer satisfaction and employee satisfaction goes up with our system. That leads to better employee retention and repeat business and that reverberates to the bottom line."
Indianapolis sports marketer David Morton has little doubt the relationship will pay dividends for the Pacers.
"Disney is revered with regard to customer relations," said Morton, president of Sunrise Sports Group. "Disney takes money out of your pocket nicer than anyone else. An approach like theirs can only help a company's bottom line."
Disney had so many requests for customer service and operations advice that, in 1986, it formed Disney Institute as a separate consulting operation.
While Disney has worked with a wide range of business interests, from manufacturing to health care, it started working with sports operations only in the last three to four years. One factor motivating sports companies to finely tune customer service is that more fans are staying home to watch games on TV.
In 2010, Disney made one of its first major forays into sports, working with the organizers of the FIFA World Cup soccer tournament in South Africa.
That same year, Disney signed a deal with the Orlando Magic and, in 2012, with the Brooklyn Nets. The NFL hired Disney to work with its customer-service employees at the 2012 Super Bowl in Indianapolis after its disastrous 2011 Super Bowl in Dallas, where hundreds of fans missed the game because temporary seat construction was deemed unsafe and weather issues closed stadium entrances.
NBA officials were so impressed by Disney's sports-related work that they called team leaders to Orlando this fall to discuss a league-wide initiative.
Following the Pacers' lead, the Miami Heat and San Antonio Spurs jumped in, as the Magic and Nets continue their Disney training.
Part of the motivation for the program, NBA officials said, is to make the league known for consistently excellent service across all markets.
Disney Institute training will examine every aspect of a visitor's experience at Bankers Life Fieldhouse, including arrival at events. (IBJ photo/Aaron P. Bernstein)
Already, Fuson and Pacers Director of Customer Loyalty Sasha Williams have reported to Disney's Orlando headquarters for three days of training. Within 30 to 45 days, Disney Institute officials will descend on Bankers Life Fieldhouse to train Pacers Sports & Entertainment employees from top to bottom, Fuson said, including contracted service providers. Disney officials will return throughout the year to continue training.
"We've got good buy-in from our employees and contractors," he said. "This is a building-wide initiative that will impact not only Pacers and Fever games, but everything else from concerts to ice shows, big events to small ones that we host here."
Danny O'Malia, a former grocery store executive who now runs an Indianapolis customer service consultancy, thinks the partnership with Disney is "brilliant."
"The Pacers have already done a lot in recent years to improve their customer service, and I think this is something that can really set them apart in the market," said O'Malia, who is a Pacers season-ticket holder. "I think the Pacers have learned the hard way it's not always just about winning and losing."
Some of Disney's basic tenets include treating visitors as guests; being not only helpful, but gracious; and making events not only pleasurable, but memorable. But Disney officials stress that a certain local flavor to service is equally important.
Disney will train PS&E managers how to treat and reward their employees, in order to reinforce consistent positive behavior toward visitors. The customer service initiative will include a program that allows visitors to recognize workers for excellent service, Fuson said.
"We're not prescriptive in that we tell people what to do," Disney's Jones said. "We don't offer a 10-step process or a manual. We share the Disney approach and help [clients] think about what that might look like applied in their organization. We help them define the ideal employee behavior and customer experience and help them align their culture to achieve those things."•
Please enable JavaScript to view this content.