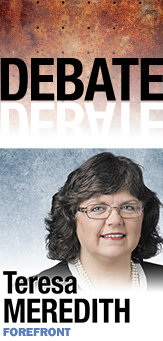 Question: A number of Democrats and Republicans in recent years have called for making the state superintendent of public instruction a position appointed by the governor. Should the position be appointed, and if so, in which year should the appointment begin?
Answer: Despite being an underdog in her first run for public office, Glenda Ritz defeated incumbent Tony Bennett to become Indiana's superintendent of public instruction in November. She surprised many by taking 53 percent of the vote. She received more votes than Gov. Mike Pence or Sen. Joe Donnelly.
She ran a grass-roots campaign, relying on support from teachers, parents and community members who wanted a change for education. The electorate spoke. Ritz took office in January.
Yet, shortly after, the buzz started that perhaps Democrats and Republicans alike might call for the position to be appointed by the governor.
I quickly realized that turmoil was just beginning between the Republican-controlled Statehouse and the Department of Education. I had to ask myself if that question would have surfaced if not for the upset by Ritz.
Then I looked back at a few events since the election and the bitterness that followed.
In January, in one of his first acts as governor, Pence, a Republican, removed Ritz from control of the Indiana Education Employment Relations Board that handles conflicts between unions and school boards.
In July, concerns about Indiana's A-F school grading system were detailed in emails obtained by the Associated Press that questioned the fairness of the system. Several days later, Bennett, who had taken a job as Florida's schools chief, resigned.
In August, the sparring continued when Pence created a new agency—the Center for Education and Career Innovation. Ritz found this move as undercutting the foundation of her agency.
Then in November, the feuding reached a standoff when Ritz walked out of a board meeting where she said the governor's new agency and several board members were trying to take over her department.
Board members are hand-picked by the governor, and many say those appointed figures answer to the governor and not the people. Wouldn't it be the same if the state superintendent were appointed by the governor?
I can't help but wonder if the appointment question about the superintendent position would have been asked if Bennett had been re-elected. Surely the results of the election show that Hoosiers want the post to remain as an elected position.
My high school civics lessons tell me that an elected superintendent keeps a system of checks and balances in place, but let's take the democratic process one step further.
Indiana has 289 school corporations, and 275 of them hold elections for their local boards. Only 12 boards have appointed members and just two have hybrid boards.
Wouldn't an elective process be more democratic if the state board members were also elected? Surely elected board members take more interest in their communities and schools and have better ideas about what works best for their students without being trapped by party policy.
Plus, if elected, one party cannot dominate by controlling the board appointments.
This is about our kids, not about politics. Let's stop the bickering. The election results tell me that Hoosiers wanted to see changes for students. Let's do what works best for education, not for the administration of the moment.•
__________
Meredith is president of the Indiana State Teachers Association. Send comments on this column to ibjedit@ibj.com.
Please enable JavaScript to view this content.