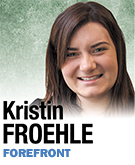 Democratic Superintendent of Public Instruction Glenda Ritz and Gov. Mike Pence are spending more time arguing than doing anything worthwhile for Indiana's education system.
Pressures between the two reached a tipping point in mid-November when Ritz walked out of a state school board meeting after a Pence appointee attempted to give school assessment powers to the Center for Education and Career Initiatives. The CECI is a second education department created by the government earlier this year.
Blame can be placed with both parties. Ritz ignored objections from fellow board members and ended the meeting over school assessment. Pence challenged the power of Ritz and the Department of Education by attempting to place control of assessment with the CECI.
But this is about more than school assessment powers, and who controls education. Strains between Pence's CECI and Ritz's board disrupt the work and mission central to each—improving the welfare of students and educators. What once was an honorable mission has turned into a political spectacle no one wants to watch.
This is but the latest power struggle in the political war between Ritz and Pence. Ritz has been accused of slowing the implementation of laws she campaigned against last year. By essentially creating a second education department with the CECI, Pence has attempted to usurp the authority of Ritz and the Department of Education.
The CECI represents the political perspective of what once was the Bennett administration, an organization focused on data and standards to improve teacher performance, evaluate schools and measure student learning. Ritz, who campaigned on being the voice of teachers, seeks to halt drastic changes put in motion during Bennett's administration.
Unfortunately for Ritz, her government mandate includes enacting those laws whether or not she approves of them. Pence has further complicated things by creating a council that takes away her own political and financial capital. So, instead of moving forward, any educational momentum from either side has ceased.
Teachers are left with little information about which standards they should be teaching to—the Common Core or Indiana's standards. Educators have no information about their own performance from the 2012-2013 school year and are still awaiting data that can determine performance.
The Department of Education and the CECI should not be allowed to coexist, for the existence of one negates the authority of the other.
In all likelihood, Pence would not have deemed the CECI necessary if Tony Bennett had been re-elected state superintendent last November. Better still, had Pence been allowed to name his own superintendent, he would not be challenging the authority of the Department of Education with the CECI.
Fewer than a third of states elect superintendents. Other states allow the governor or a board to name their superintendent. States that elect superintendents argue that education is important enough that citizens should determine who controls the policy. Additionally, governors often campaign on educational issues, and the ability to name a superintendent allows governors to help enforce their campaign promises.
Without the ability to appoint a state superintendent, bipartisan superintendents and governors must find a way to compromise. Bennett's predecessor, Suellen Reed, was successful under two Democratic governors in the early 2000s. If only Ritz and Pence could find a way to move forward in the same vein.
Because no matter who is right, neither Ritz nor Pence is able to focus on both policy and politics. Their bickering is leading nowhere. Indiana desperately needs a cohesive educational team, and right now is finding none.•
__________
Froehle is a senior and Wells Scholar at Indiana University majoring in business, and a former White House intern. Send comments on this column to ibjedit@ibj.com.
Please enable JavaScript to view this content.