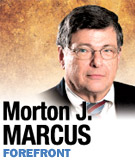 What is the number one complaint of Hoosier employers? The labor force is outdated. We do not have enough workers with the training and experience to compete with other states and nations.
Some employers would supplement that concern with the high percentage of applicants who cannot pass drug tests.
Our schools by virtually every measure are inadequate. They have produced a generation of ill-equipped, under-educated adult workers.
There is an epidemic of obsolescence in our towns and cities that is easily seen in downtown areas, roads, bridges, civic and governmental organizations. It is as though we are still in the 20th century fighting to retain the conditions of the 19th century.
When we have a chance to join with progressive movements, we resist. Instead, we embrace regressive initiatives.
Examples:
• replacement of property tax revenue by an increased sales tax that helps the wealthy
• a repressive voter registration law and rejection of improved voter access methods
• antiquated child care oversight and child protection services
• rejection of expanded Medicaid for approximately 300,000 Hoosiers
• acceptance of a "right-to-work" law.
Now a group of companies and institutions have the courage to come forth and say, "Enough is enough!" Led by Eli Lilly and Co., Cummins Inc., the Indianapolis Chamber of Commerce and Indiana University, a coalition has formed to block legislative passage of a resolution to put a constitutional ban on same-sex marriage on the ballot in 2016.
Indiana already has a law banning same-sex marriage. Proponents of that measure want to make it harder to repeal the law by placing the ban in the state's Constitution.
Worldly-wise companies and institutions have said, no! They know how Indiana is viewed from elsewhere already. Why make things worse?
From outside the Hoosier Holyland, we look like a retrograde Southern state. We were late to integrate our schools. We opposed (and still do) federal aid for a long list of infrastructure and social projects. We celebrate an agricultural heritage that has been in relative decline for 100 years.
We delayed multi-county and interstate banking until our banks were swallowed by banks from our neighboring states.
Only lately, we recognized the importance of manufacturing and logistics in our economy.
Specialists in Hoosier hype tell companies how business-friendly we are. They don't mention the fact that we are unfriendly to those who work. They talk about our low Worker's Compensation taxes without any mention of the resultant inequitable benefits for injured workers.
With all the negatives stacked against Indiana, we must commend successive administrations for keeping those good-cheer press releases coming. Although the gains cited and the honors awarded are mainly trivial, the flow of carefully crafted happy news is energetically maintained.
Same-sex relationships have become an increasingly important touchstone of contemporary thinking. For some, these relationships are sinful; others find them acceptable. The latter view is becoming dominant in the Western world.
The companies and institutions that know that world do not want to see us pile more on the slag heap of our negatives.•
__________
Marcus taught economics for more than 30 years at Indiana University and is the former director of the university's Indiana Business Research Center. Send comments on this column to ibjedit@ibj.com.
Please enable JavaScript to view this content.