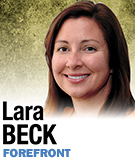 Sid and Lois Eskenazi Hospital recently opened downtown to justifiable fanfare. The state-of-the-art campus is the city's only public hospital. Formerly known as Wishard Hospital, Eskenazi Health has long served some of our most vulnerable neighbors.
This new hospital came to be because of a solid measure of bipartisanship.
In 2009, Marion County voters overwhelmingly approved replacing the antiquated Wishard Hospital.
Republican and Democratic operatives worked closely to lead the campaign for the new Wishard. Community members of diverse backgrounds and political affiliations rallied around the effort, many of them raising funds and awareness. A project-labor agreement ensured the project would be done on time and on budget.
Our differences often can help us bridge the divide, particularly if that benefits the community.
Consider the compromise City-County Council Democrats and Mayor Greg Ballard reached on the 2014 budget. Democrats presented their priorities and Ballard presented his priorities. After some spirited debate, they reached an agreement.
One of the best outcomes of the budget discussions is the bipartisan study commission proposed by Vice President John Barth to take a hard look at how we fund public safety in our community, a much-needed conversation.
The announcement of the budget agreement coincided with the federal government shutdown, prompting some to comment that Washington has a lot to learn from Indianapolis.
And then there's our senator, Joe Donnelly, who stood head and shoulders above the rest in ending the Tea Party-driven government shutdown in October.
While some of our Hoosier congressmen went on media tours that were nothing short of disastrous, Donnelly worked behind the scenes with his Democratic and Republican counterparts to pull the country back from the brink.
As he explained to Statehouse reporter Maureen Hayden, "This is precisely what the people of Indiana expect from me. When I was elected, I told them this is what I would do: I'd work with everyone in the Senate, whether they were Democrat or Republican, and just use Hoosier common sense."
Over at the Statehouse, Freedom Indiana, the bipartisan coalition charged with defeating House Joint Resolution 6, the silly and divisive gay marriage amendment, seems to make an announcement daily about its impressive lineup of supporters.
From the Indianapolis Chamber of Commerce to some of our largest employers, Hoosiers from all walks of life are coming out to voice their concerns that the amendment will harm our efforts to attract and engage top-flight talent to our state. Not to mention, it's hard to tout Hoosier hospitality when discriminating against same-sex couples and their families.
We're on the cusp of another election year. We'll put on the boxing gloves and fight until the last vote is cast—or recounted—in May and November. We'll endure countless television ads, and shake our heads at the tactics employed by our opponents.
Campaigning is relentless and unforgiving.
Yet, one of the more endearing qualities we Hoosiers possess is that we are able to move beyond election-year rancor and get to work.
Are the partisan fights more difficult to put aside once the election ends? It's a slippery slope. It's a constant in Washington, and seems to becoming more prevalent in Indiana.
If there's one lesson to be learned from Eskenazi Health, Donnelly, local government leaders and Freedom Indiana, it's that bipartisanship does matter. That, and a healthy dose of Hoosier common sense.•
__________
Beck served on the staffs of former Mayor Bart Peterson and former first lady Maggie Kernan. A resident of Irvington, Beck owns the strategic communications firm Beck Communications. Send comments on this column to ibjedit@ibj.com.
Please enable JavaScript to view this content.