The city's new professional hockey team will be called the Indy Fuel, team organizers said Tuesday morning.
The announcement came one day after the team unveiled it had signed a long-term deal to play in the renovated coliseum at the Indiana State Fairgrounds beginning in October 2014.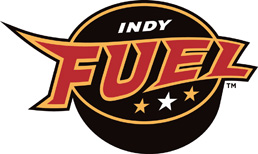 For now, the Indy Fuel are a team and logo in search of an NHL affiliation. (Image courtesy Indy Fuel)
The Fuel will compete in the ECHL, formerly known as the East Coast Hockey League, one of two minor leagues for the National Hockey League. Based in Princeton, N.J., the 26-year-old ECHL has more than 20 teams in cities across the United States, including Fort Wayne, Evansville, Cincinnati, Toledo and Kalamazoo.
 "We think the Fuel really captures what this team is all about," said team president and CEO Sean Hallett in a prepared statement. "There's an obvious reference to Indy's racing heritage—hockey is about speed and excitement, too. And the name also refers to our goal of reigniting the spirit of pro hockey here in Indianapolis."
Sean Hallett is the son of Jim Hallett, the CEO of Carmel-based KAR Auction Services Inc. and chairman of Indiana Hockey Club LLC, the Fuel's parent organization.
The Fuel said they are in the process of hiring front-office and coaching staff, signing an affiliation agreement with a NHL franchise, and recruiting players to fill the roster.
Ticket prices are expected to range from $10 to $35 per game. The team expects to play about 36 homes games in the 2014-15 season.
The team is taking $50 deposits toward season-ticket orders on its website, www.IndyFuelHockey.com.
 
Please enable JavaScript to view this content.