Carmel has gained a publicly traded company large enough to knock retail legend J.C. Penney off the Standard & Poor's 500 Index.
Irish industrial conglomerate Ingersoll Rand was set to distribute shares in the newly created security equipment manufacturer Allegion PLC on Dec. 1.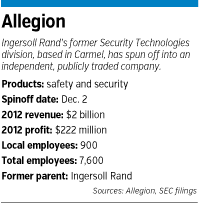 Regular trading of Allegion's shares was scheduled to begin Dec. 2 on the New York Stock Exchange, the last step to spinning off the firm into its own publicly traded entity. The company's ticker is ALLE.
The firm previously operated out of Carmel as Ingersoll Rand's Security Technologies division.
Ingersoll Rand—a $14 billion-per-year, multi-industry conglomerate—decided to spin off the security division so the business could better focus on its own market. Activist investor Nelson Peltz pushed for the move after he acquired a 7-percent stake in 2012.
Allegion, as a stand-alone corporation, forecasts $2 billion in annual revenue and market value of $4.2 billion, which puts the company in league with some of Indiana's largest companies, such as Allison Transmission, Steel Dynamics or Vectren Corp.
The newly independent firm was large enough to bump struggling retailer J.C. Penney from the S&P 500.
Allegion makes metal door parts, deadbolt locks and other security products. The company sells 23 brands worldwide with some of its biggest labels being Von Duprin, Schlage and CISA.
SEC filings list Dublin, Ireland, as Allegion's home base. But Carmel will serve as the operations center for a corporation with 7,600 people scattered among 35 countries.
About 400 people work in Carmel's corporate offices, with another 500 stationed at a century-old factory at 2720 Tobey Drive in Indianapolis.
Allegion has not announced any significant alterations to its Indiana operations, other than management changeups.
David Petratis became the company's CEO in August. He was previously chairman, president and CEO of publicly traded Quanex Building Products Corp. in Houston.
Petratis will steer an executive team that includes at least a half dozen new appointments, several of whom had top posts at Ingersoll Rand.
Hamilton County officials have rallied around the new company, even if there won't be a massive number of new jobs.
Having a public company that reports $2 billion a year in revenue will put a spotlight on the area, said Tim Monger, president and CEO of the Hamilton County Alliance economic development group.
"For Carmel, that is huge," he said about the spinoff.
Allegion on Nov. 18 gave investors their first glimpse at the future. The company won't release concrete outlooks until 2014.
"Management emphasized that [Allegion] has strong products and brands in a large and growing industry, and that it has substantial opportunities for both organic and M&A-driven growth," analysts at Swiss financial firm UBS AG wrote in a note to investors.
Allegion "appears positioned to benefit from a U.S. construction recovery (primarily non-residential), with additional growth opportunities abroad, particularly in the emerging markets."
But analysts at MKM Partners described their position as "a little underwhelmed" by Allegion's growth prospects and valuation.
MKM forecasts Allegion's revenue will increase to $2.23 billion and $2.20 per share in 2014 from $2.15 billion in revenue and $2.05 per share in 2013. That should place stock prices around $47 per share, the firm says.
Early trading in Allegion's stock was volatile. Trading in so-called "when-issued" shares began Nov. 18 at $49.75 apiece. But the shares had dropped 13 percent, to $43.99, by Nov. 22.
On Dec. 2, investors were slated to receive one share of Allegion for every three they own in Ingersoll Rand, whose stock traded around $70 for most of November.•
__________
Behind the News will return next week.
Please enable JavaScript to view this content.