Westfield's massive Grand Park Sports Campus doesn't open until March, but city leaders already are focused on making sure the 1 million-plus visitors they expect next year want to come back.

Inspired by the host committee behind Indianapolis' much-heralded 2012 Super Bowl, Mayor Andy Cook is setting up an Office of Hospitality to help the sleepy suburb wake up to its potential as a national youth-sports mecca. Westfield is also consulting with the architect of the Indianapolis Super Bowl effort.

"We need to be known as a very friendly city, and it's going to take a little extra effort from all of us," he said.

Cook is still working out the details of the city's hospitality office, but he expects to shift existing resources to fund and staff the initiative.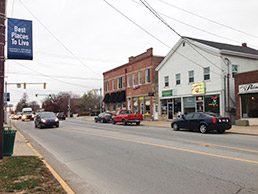 Westfield, a city of 32,000, is gearing up to host more than 1 million visitors next year with the opening of its Grand Park sports complex. (IBJ photo/Andrea Muirragui Davis)
Residents and businesses alike must prepare for the flood of visitors already booked for 2014, which is sure to all but overwhelm the city of 32,000—at least in the short term. But officials expect Westfield's $45 million investment in the sports park to spur private development once the crowds start showing up.

Cook expects much of the Grand Park-related development to occur near the park, but he hopes visitors—and businesses—also are drawn across U.S. 31 to the heart of the city. Westfield's so-called Grand Junction downtown redevelopment plan calls for creating a civic plaza highlighting local waterways and a half-dozen recreational paths, including the Monon Trail.

Unique amenity

Grand Park will be the largest such complex in the United States, with 26 baseball diamonds and 31 multi-use fields. Private users also are planning indoor soccer and baseball facilities.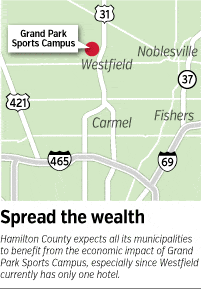 Youth sports is big business nationally, and Westfield is making a play for its slice of the pie. The more memorable visitors' experiences, the more likely they are to become repeat customers, Cook reasons. And that can only help existing businesses.

"We've got a gift that no other community has: an invasion of [as many as] 1-1/2 million potential customers year after year after year," Cook told Westfield Chamber of Commerce members during his annual State of the City address Nov. 21. "Hoosier hospitality is in our blood. We need to build on that."

He pointed to the rave reviews Indianapolis' customer-service efforts got during Super Bowl XLVI, when more than 8,000 volunteers helped one of the NFL's smallest cities stage what's been called one of the best Super Bowls.

It will take similar support for "little" Westfield to grow its nascent hospitality industry, the mayor said.

"How does a little city pull this off?" he asked at the chamber luncheon. "Because of the community."

To that end, Westfield has enlisted the help of Indianapolis Super Bowl Host Committee chief Allison Melangton, now CEO of Indiana Sports Corp. The city also is talking to tourism group Visit Indy, which continues to operate the Super Service hospitality training program it created in collaboration with IUPUI in 2011.

About 17,000 volunteers and industry professionals—including all cab drivers—completed the online program in the buildup to the Super Bowl. Another 10,000 have gone through a modified version of the training this year, said Susie Townsend, Visit Indy's senior vice president of visitor experience.

Custom programs were developed this year for use by the Indiana State Fair and tourism groups in Kokomo and Madison, she said, and an advisory committee continues to suggest updates for the training modules.

"There's always something new to learn," Townsend said. "As our destinations grow, as new people come on board, we need to stay educated."

One of the two new modules planned for 2014 will focus on upcoming "blockbuster" attractions: the orangutan exhibit at the Indianapolis Zoo, for example, and the arrival of bike sharing along the Cultural Trail.

Grand Park likely will merit a mention, but Westfield officials also are interested in discussing the possibility of introducing their own version of the Super Service program.

Although hospitality workers are the most obvious audience, Townsend said the training can be helpful to anyone who might interact with visitors. A group of nuns went through the program before the Super Bowl, she said.

"Customer service and destination training are very important," Townsend said. "You don't necessarily have to learn about all the art along the Cultural Trail, for instance, but you know how to find that information."

Preparing for crowds

Melangton said that's particularly important in a place like Westfield, which is likely to see significant growth in its hospitality industry over a relatively short time.

"So much of it is just communication, getting the correct information to the right people," she said. Businesses can better respond to customers' needs if they know who's coming, for how long, and what equipment they'll have in tow, for example.

Once that network is in place, it should be "just as easy" to keep it running as it is to gear up for a one-and-done event like the Super Bowl, Melangton said.

"It's not brain surgery," she said.

The Hamilton County Convention & Visitors Bureau will continue to offer support, rallying the troops in nearby cities like Noblesville and Carmel—particularly important since Westfield has only one hotel now. More are in the works, but won't be ready for the first wave of visitors.

Room blocks already are being reserved for next year, said Brenda Myers, Hamilton County Convention & Visitors Bureau's executive director.

"As a county, we need to be ready for the influx," she said. "There are going to be a lot of uniforms out there—at a level I'm not sure some people have seen before. It puts us in a new position."

Cook envisions a hospitality guru overseeing a corps of volunteers stationed throughout the community to welcome visitors and answer questions. City staff also will reach out to neighborhood groups and businesses—new and existing—to make sure they know what to expect.

The mayor said the strategy already is paying dividends.

"I hear from businesses almost weekly now, saying, 'I want to be here,'" Cook said. "That's going to greatly intensify next year, when they can actually see the people."

His goal is to wow visitors on and off the field: "We want them to say, 'We've got to go back to that place in Westfield.'"•