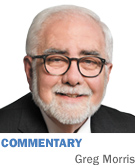 Recently, I was fortunate enough to have a backstage pass to view the new Sidney & Lois Eskenazi Hospital and Eskenazi Health campus before its December opening. The newly renamed Wishard is just east of White River and north of Michigan Street, a stone's throw from the old hospital, and it is truly magnificent.
IBJ reporter Scott Olson wrote about his Eskenazi Hospital preview experience online and in the Nov. 25 issue of the paper. Scott's story focused on the amazing display of artwork throughout the facility, among other observations. As reported, "The array of artwork assembled by the new Eskenazi Health hospital is impressive enough to make some museums envious."
As Health and Hospital Corporation of Marion County chief Matt Gutwein and Eskenazi Medical Director Dr. Lisa Harris, the masterminds behind the facility, led me through this well-laid-out and welcoming hospital, they sounded like proud parents of their new "baby."
And why shouldn't they feel great about the tremendous accomplishment of conceiving, planning, raising money for, and building what is undoubtedly one of our city's greatest assets? The attention to every detail is stunning. An entire book could be published about the thought and discussion behind every decision that was made to do something a particular way.
For example, the decision to design the hospital so that as much natural light as possible falls on every nook and cranny of the interior is an interesting story. Why is it important? Think of how many city hospitals across the country provide an atmosphere that is intimidating the moment you walk in the door. You have to navigate a maze to get anywhere and you sometimes feel like you're in a dark basement. Our new hospital is just the opposite, offering a healthy experience for visitors and patients alike.
Every detail is designed to promote healthy living and a healthy state of mind. The natural light that floods the entire building, the park-like setting just outside the main entrance, all the inspirational artwork, every color choice, the sky farm on the roof that invites patients and staff to help grow fruits and vegetables that end up on patients' trays and in the cafeteria. All of it screams, "This is good for your mind and body."
Harris was extolling the virtues of kale as a superfood as we passed the cafeteria. I now know more about kale than many topics related to my business. Did you know the nutritional density is virtually unparalleled among green leafy vegetables?
I tried to divert Dr. Harris' attention with my smart-alec response: "Yes, but doesn't it taste like kale?" That was a big mistake. I soon learned that Dr. Harris has more ways to prepare kale than Forrest Gump has to prepare shrimp.
In any case, Dec. 7 is moving day. This is the day they "flip the switch" and move all the patients from the old Wishard Hospital to the new Eskenazi Hospital and start full-time operations at the new facility. As you would expect, all the details of the move have been meticulously planned. I'm confident execution of that plan will be followed to the letter.
So, here we are, four years and almost a month since the Nov. 3, 2009, referendum to build a new Wishard was approved by approximately 85 percent of the voters. This magnificent new facility will be open for business in a few short days.
Congratulations to Gutwein, Harris, the Eskenazi Health Foundation, its board, the doctors, nurses and staff, volunteers, and all the contributors of time and money for your hard work to make this happen. Thanks to Sidney and Lois Eskenazi for your unmatched generosity. Thank you to all the architects and construction trades that made the vision become a reality.
And another thanks to all the early supporters of the referendum in 2009, including Mayor Greg Ballard, the Greater Indianapolis Chamber of Commerce, the United Way of Central Indiana, many universities, urban churches and many others I'm unable to list here due to space.
The mission of Wishard-Eskenazi Health is to advocate, care, teach and serve the vulnerable populations of Marion County. You now have a beautiful new facility and campus to further your mission. Here's to a healthier Indianapolis as a result of your extraordinary work.•
__________
Morris is publisher of IBJ. His column appears every other week. To comment on this column, send email to gmorris@ibj.com.
Please enable JavaScript to view this content.