Indiana's three publicly traded retailers are hoping the holiday shopping season is as kind to them as the market's been to their stock prices.
Shares of The Finish Line Inc., HHGregg Inc. and Shoe Carnival Inc. have been on a tear this year, rebounding to outperform the major stock indexes and rising at least 40 percent in value through the first of December. By comparison, the S&P 500 has gained about 28 percent.
The healthy stock prices are a welcome change for the three companies, particularly HHGregg. The company's shares had been trading in the single digits as it struggles to compete with other big-box rivals and online retailers.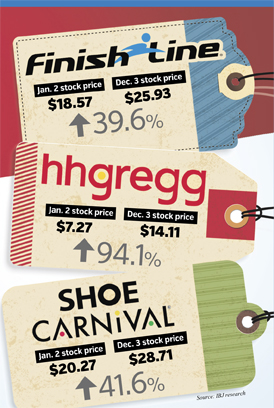 But matching their stock rallies with cheerful holiday sales will be difficult. U.S. retailers saw a 2.3-percent increase on Thanksgiving and Black Friday, in line with ShopperTrak's forecast that sales for the entire season will register their smallest gain since 2009.
For various reasons, executives of all three declined to discuss their expectations for the holiday shopping season. But it's clear to Richard Feinberg, a Purdue University professor of consumer sciences and retailing, that none is going to break any sales records.
"That doesn't make them special," he said. "That's part of the national trend that sales are very tough."
Any success they might have this season rests mostly on their decisions to expand markets and product lines, said Mark Foster, chief investment officer at Columbus, Ind.-based Kirr Marbach & Co.
"With all of these, the niche gets crowded after a while, whether it's shoes, electronics or whatever," he said. "You've got to be able to expand to grow the business. All of these companies seem to be doing that with some success."
Store within a store
Indianapolis-based Finish Line has become the exclusive athletic footwear partner of Macy's Inc. HHGregg, also locally based, has offset its reliability on the ultra-competitive consumer electronics category by introducing home products. And Shoe Carnival, based in Evansville, has expanded its selection of women's footwear.
Finish Line's strategy helped prompt two analysts last month to raise their ratings for the company, pointing to a favorable product mix and stronger online performance. Last holiday shopping season, Finish Line pulled the plug on a new website after customer complaints about lost orders mounted.
The local athletic shoe and clothing retailer's deal with Macy's gives it the right to be the exclusive athletic footwear partner of the national department store chain. It had 189 Finish-Line-branded shops in Macy's stores at the end of its fiscal second quarter Aug. 31.
New products from apparel makers such as Nike, Adidas and Asics helped Finish Line report a 6.1-percent jump in earnings for the quarter.
During a conference call with analysts in September, Finish Line CEO Glenn Lyon shed little light on the company's expectations for the season, saying only, "We feel good" about the Macy's deal "to take full advantage of the sales opportunities for the holiday."
Beyond big-screens
HHGregg CEO Dennis May is optimistic as well.
The leader of the electronics and appliance retailer said during the company's latest conference call in October that he's especially upbeat about the potential for "robust" sales of tablet computers.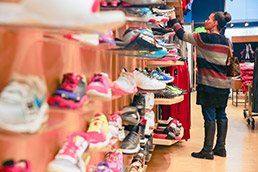 New products from apparel makers such as Nike, Adidas and Asics helped The Finish Line report a 6.1-percent jump in fiscal second-quarter earnings.  (IBJ photo/Aaron P. Bernstein)
"We believe the hottest gift going this year is the tablet … and we are extremely well-positioned there," May said. "We have all the right brands, we have the right assortment, we've got great inventory in that category."
The company also has expanded its offerings of home furnishings and continues to see a bigger percentage of its sales come from appliances rather than electronics.
Fifty percent of its sales came from appliances in the latest quarter, up from 46 percent a year ago. Roughly 36 percent of the retailer's sales came in the consumer electronics category, down from 42 percent last year.
"Electronics are tough," Feinberg said. "You can buy a big-screen television from Amazon."
New products—such as entertainment furniture, fitness equipment and mattresses—have helped the company replace dwindling sales in electronics. Sales of home products in the latest quarter accounted for 5 percent of the company's sales compared with 3 percent in the year-ago period.
"As part of our initiative to reshape our sales mix," May said in the conference call, "we are allocating even a greater portion of our sales floor to home products."
HHGregg's strategy to expand its offering is paying off on Wall Street. Company shares climbed from $7.27 at the start of the year to as high as $20.75 in September before falling back to $14.11 earlier this month. Still, its stock price has nearly doubled this year.
The company hasn't given up altogether on the television segment. Instead of cheaper models, it's focusing on premium sets measuring at least 60 inches.
Expanding selection
In the meantime, Shoe Carnival in Evansville began introducing in some of its roughly 370 stores better brands in its women's department.
The company said it launched a digital ad campaign and in early November held a reception for its most important customers to help market the strategy.
"The results of these efforts have been outstanding," company CEO Clifford Sifford said during a conference call with analysts.
Shoe Carnival plans to expand the brands to another 25 stores in the fourth quarter and to most new stores next year. The plan is to grow women's sales of non-athletic shoes from 26 percent to 30 percent of its overall sales, the company said.
The push has helped drive Shoe Carnival's stock price from $20.27 at the beginning of the year to $28.71 at the start of December, an increase of nearly 42 percent.
Shoe Carnival plans to open 40 stores next year and wants to begin a national advertising campaign as opposed to paying for TV spots in selected markets, the company said.
But the success the retailers have experienced this year could suffer from weak holiday sales. Certain apparel retailers already are nervous about heavy inventories following the weak Thanksgiving and Black Friday sales.
If they're saddled with too much stock, they might need to slash prices even more, Feinberg said.
"It does a retailer no good to have inventory left over after the holiday season," he said, "so they somehow need to turn that inventory into cash."•
Please enable JavaScript to view this content.