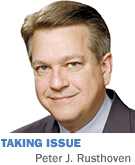 Last month, Pope Francis issued his first apostolic exhortation, Evangelii Gaudium (The Joy of the Gospel). Commentary has focused less on the theology than a few statements portrayed as indicting free-market capitalism.
American Catholics, including this convert, see much to admire in our new pope. But Catholic conservatives find it frustrating when church pronouncements on political and economic issues embrace leftist rhetoric and ignore reality.
The U.S. Conference of Catholic Bishops is prone to this. In the 1980s, most bishops opposed Reagan defense policies. Many favored a unilateral nuclear freeze. A majority protested placing cruise missiles in Western Europe. After initially noting benefits of the Strategic Defense Initiative ("Star Wars" in media parlance), the conference reversed course.
Such positions were always pronounced as "promoting peace." None would have done so had Reagan adopted them. No one wanted a unilateral U.S. nuclear freeze more than the Soviets. The Soviets were also desperate to stop Reagan's cruise missile program.
And they were apoplectic about SDI, which they knew would cripple their ability to threaten the West. The Conference of Bishops (venturing far beyond its expertise) questioned SDI viability, as did an oft-mocking media. Curiously, the Soviets were less sanguine that SDI "couldn't work." It's why they finally signed the first treaty actually reducing nuclear weapons.
Reagan achieved that. His policies, opposed by most bishops, led to Soviet collapse and ended the Cold War. Whom do you think had the more effective, real-world commitment to peace?
Real-world effectiveness should also be the criterion for moral pronouncements on capitalism versus other systems. How much Evangelii Gaudium ignores this is debatable; thoughtful observers disagree on the accuracy of characterizing it as condemning free-market economics.
But to the extent its statements support that view, they are misguided. They also exemplify what conservatives find unreasonable (and annoying) about the left.
Liberals tend to judge themselves—and insist that others judge them—on their beneficent stated intentions, rather than the results of their policies. Many also caricature conservatives as opposing the good intentions (such as promoting peace or health care, or alleviating poverty).
Conservatives in fact overwhelmingly share those objectives. But they care about actual results achievable in the real world. They also care deeply about individual freedom. And they are acutely aware that solutions based on government control often do not work, and prove effective at only one thing—eliminating or curtailing freedom.
We are imperfect beings—the church's term is "fallen"—inclined to selfishness and greed. Capitalism does not repeal human nature. But as Milton Friedman insightfully observed, it is the only system that harnesses human greed such that rewards come only if what one does or makes is deemed valuable via free choices made by others.
That is why it generates far more prosperity than other economic systems. Not coincidentally, it is also far more effective in alleviating poverty than state-control alternatives. A recent example is Chile, an economic disaster under Marxist Salvador Allende, beloved by 1970s American leftists as a martyred champion of the oppressed. Today, it is a capitalist success story leading Latin America in per capita income.
Free-market capitalism is not perfect. No serious person claims it is, or (contra leftist rhetoric) proposes unfettered laissez-faire. But it is much better than the alternatives, including at promoting the very objectives the pope and other leaders of my church support.•
__________
Rusthoven, an Indianapolis attorney and graduate of Harvard College and Harvard Law School, was associate counsel to President Reagan. Send comments on this column to ibjedit@ibj.com.
Please enable JavaScript to view this content.