Rep. Tom Dermody, R-La Porte, says he doesn't mind being tagged as a wild card. He'll take it as a compliment that people say they never know how he's going to vote.

"I don't always agree with leadership, and they don't always agree with me," said Dermody, the newly appointed chairman of the House Committee on Public Policy. "But that's why I respect [House Speaker] Brian Bosma so much. Even if we disagree, we can have an honest and truthful conversation."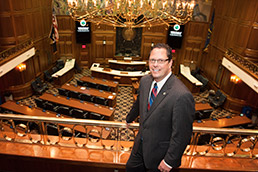 Dermody, a LaPorte Republican, replaces Bill Davis of Portland, who stopped votes on some alcohol issues.
(IBJ Photo/Eric Learned)
The Committee on Public Policy deals with all legislation pertaining to the business of vice, and in recent years the panel has mostly put a cork in attempts to let the vices spread.

But the alcohol and gambling industries could be in for a bit more favorable consideration when the General Assembly reconvenes Jan. 6 for a quick 10-week session, as new chairman Dermody will likely apply more of a free-market approach than his predecessor.

The Public Policy Committee also could be tasked with House Joint Resolution 6, the high-profile marriage amendment.

Last session, for the first time, the committee dedicated a hearing to Sunday carry-out alcohol sales and also considered expanding cold beer sales to grocery and convenience stores.

Although the chairman, Rep. Bill Davis, R-Portland, who has since retired, declined to let members cast a vote on the alcohol issues, merely giving them a hearing was considered progress by those who hope to end Indiana's distinction as the only remaining state to prohibit all Sunday alcohol sales.

"We heard a lot of testimony on the effect those additional sales would have on youth," recalled Davis, who now works for the Lieutenant Governor's Office. "The most abused drug in Indiana is alcohol."

The committee in 2013 was also assigned a bill to allow live table games at Hoosier Park Racing & Casino in Anderson and Indiana Grand Racing and Casino in Shelbyville, but Davis declined to let the committee vote on what was portrayed as gambling expansion.

Whether or not Chairman Dermody finds himself inclined to be a bit more activist, he will be limited by the calendar.

"Being a newbie, the short session is probably an advantage to Tom," said Rep. Phil GiaQuinta, D-Fort Wayne, the ranking minority member on the public policy panel. "The committee obviously hears some highly emotional issues, and if they're going to take a lot of time to hash out, he may decide to wait until next year."

In fact, alcohol sales could be off the table completely in the new year—for the same reason legislative leaders during the 2013 session passed on addressing HJR6.

The Legislature generally doesn't deal with issues in litigation, said ex-chairman Davis. In May, a trade association representing convenience stores filed a lawsuit against the state in federal court seeking to strike down regulatory restrictions on the sale of cold beer by convenience marts and groceries.

All the alcohol issues "run together," said Davis, because policy changes that benefit certain retail sectors come at the economic expense of others. For example, Sunday carryout and cold beer sales could be a bottom-line boon to grocery stores and gas stations, yet likely hurt liquor stores.

The same principle holds true in gambling, where the addition of live table games to the racinos would perhaps siphon business from French Lick Resort Casino.

"Whether it's the gambling or alcohol industry, or anything that has a big economic impact on the state, anytime you start moving those things around or discussing those, there's going to be an impact to somebody else," GiaQuinta said.

Big-picture background

Dermody should have no problem seeing the big picture given his time serving on the House Committee on Ways and Means. As chairman of the subcommittee on higher education, he earned a positive reputation for bringing all parties to the table during work on student financial aid reform, including public, private and for-profit institutions.

His older brother, Jim, a superintendent for the New Prairie United School Corp., reminds him almost daily that it's easy to pass laws in Indianapolis.

"You have to make sure you listen to the people in the trenches so you know what the effects will be," Tom Dermody said.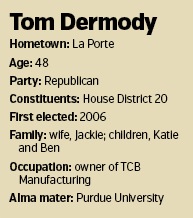 Dermody owns TCB Manufacturing, which makes insulated food delivery bags, employing 75-80 people at two locations in La Porte and South Bend.

He also co-chairs the General Assembly's Small Business Caucus, which held a series of town hall meetings across the state this year with the National Federation of Independent Business.

"I believe in the free market," Dermody said. "We'll see what bills come to us in what form. I'll have plenty of opportunity to start delving into specific issues once they're assigned to committee.

"I look forward to speaking with both sides of the issues," he added. "That's very important to me—especially those you don't agree with or those that don't agree with you."

Competitive blood

Dermody grew up in La Porte and attended Purdue University on a baseball scholarship. He graduated in 1988 with a degree in what's now known as technology and leadership innovation, and his first job was in sales for a recreational vehicle company in Elkhart.

His wife, Jackie, is a daughter of Sen. Jim Arnold, D-La Porte, the ranking minority member on the Senate Committee on Public Policy.

"We're the only father-in-law/son-in-law combination in the history of the General Assembly," Dermody said.

His daughter, Katie, is a senior at La Porte High School and captained the soccer team, and his son, Ben, is quarterback for the freshman football team.

Tom and his brother each were three-sport athletes growing up.

"We're all very competitive," Tom said. The annual Dermody family Thanksgiving basketball game at Jim's house is "a battle royale."

Tom Dermody is also far and away the most talented basketball player in the General Assembly, as evidenced by his dominant play in the annual Democratic-Republican pickup game at Hinkle Fieldhouse. (Dermody could also win a Tom Crean look-alike contest.)

Dermody's closest friend in the House is Rep. Sean Eberhart, R-Shelbyville. The two graduated from Purdue the same year, they both own businesses, and both are members of the 2006 class of the General Assembly.

They also share an office on the fourth floor of the Statehouse. In 2013, Eberhart authored the controversial measures to allow Sunday carryout alcohol sales and live table games at the racinos.

The speaker of the House has typically given committee chairs latitude in determining which bills are heard and voted on, and in what order, said ex-chairman Davis.

"Once a bill has been assigned, Speaker Bosma has been very good about allowing the committees to do their work. He believes that most of the work on a bill should be done in committee, not on the House floor. Committee chairs at least in the Republican-led House have a lot of discretion," Davis said.

Dermody said he tends to make decisions based on what he thinks is best for his district and the state, not necessarily what's best for the party.

"Hopefully, the speaker knows I will work hard," he said. "I will not be out-worked."•