When my son and I go out for Mexican food, our ordering behavior is fairly stereotypical. He wants the familiar, finding comfort in the simple remix of tortilla, meat, cheese, etc., that typify most such eateries. (He also pushes for queso dip, but I can never understand spending $4 or $5 for a dish of spiced-up melted cheese.)
I, on the other hand, want to try something different, hoping to find an unexpected flavor gem amid the burrito variants, quesadilla creations and combo platters.
We found both at Agave Bar & Grill (31 E. Main St., Carmel, 844-5551). And while this handsome eatery isn't likely to become a destination restaurant, it certainly is a welcome addition to Carmel's downtown and a worthy stop for shoppers, Second Saturday visitors and neighborhood residents.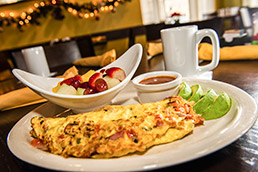 One of Agave's surprises: A breakfast menu that includes Mexican variations as well as traditional American choices. (IBJ Photo/ Eric Learned)
Agave offers a limited number of appetizers, most of which are nacho variations. That seemed redundant given the chips we'd already eaten, although investing in Agave Dip ($5.99)—a mix of ground beef, beans, cheese and pico de gallo—is a tempting option. Instead, we went with Flautas ($7.99), a more respectable, soft-tortilla version of the ground-beef-filled tubes you see at your local convenience store. The flautas were acceptable, but really unnecessary given the quantity and similarity of the food on most of the entrée platters.
My tradition-minded son sampled the Steak Fajitas ($12.99—adding chicken in the mix is a $1 upgrade). Apart from some chunks of tomato (a welcome—but perhaps accidental—addition to the mix), they were what we've come to expect and substantial enough to feed two without any complaints from either. My search for alternatives led to Arroz con Mariscos ($11.99), where grilled shrimp, scallops, crab meat and a red salsa topped a bed of rice. While satisfying, it proved no greater than the sum of its parts.
For dessert, the Platanos Fritos ($4.99) tarted up the pleasures of fried plantains with a mountain of ice cream, a cinnamon-doused crisp and chocolate sauce. My son dove into everything but the plantains themselves. More to my liking was a subtle Flan ($4.25), a not-too-sweet caramel-and-liquid-custard pleasure worth savoring.
For something you don't find at most Mexican eateries around here, consider a stop between 7 and 11 in the morning. Breakfast options beyond such Anglo offerings as pancakes and croissant sandwiches include Choriheuvos, Huevos Rancheros, and the one I sampled on a separate visit, Huevos a la Mexicana ($8.75), featuring diced ham, onions, peppers and tomatoes generously tossed into a batch of scrambled eggs. Fresh fruit and rice, beans and tortillas help remind you where you are.•
—Lou Harry
__________
Fourth in a month-long series of new-in-2013 restaurants that we hadn't previously reviewed.
Please enable JavaScript to view this content.