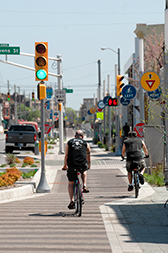 Even before it formally opened in May, the Cultural Trail was helping spur development along its path. (IBJ file photo)
Hatched in 2001, Brian Payne's original idea for the Cultural Trail (full name: The Indianapolis Cultural Trail: A Legacy of Gene & Marilyn Glick) was to create an urban version of the Monon Trail, only connecting the city's newly designated cultural districts.
The trail officially opened in May at a cost of $63 million, including $6 million for a maintenance endowment. The funding split ended up at $35.5 million from the federal government and $27.5 million from private donations. No local tax dollars were used.
While it has yet to be determined how much fitter Hoosiers and visitors are thanks to the nearly 8-mile winding foot and bike path, development has been sparked along the spur leading to Fountain Square as well as along Mass Ave northeast of College Ave.
The Cultural Trail also garnered worldwide press. Project for Public Spaces said Indianapolis "is taking what may be the boldest step of any American city towards supporting bicycles and pedestrians."
"If it had been done in New York or Chicago, it would be seen as a paramount national project that everybody would be looking to imitate," said Aaron M. Renn of Urbanophile.com. "I don't think it's gotten its due."
How the deliberately unwieldy landmark will play out programmatically—and whether the problematic "Swarm Street" LED-lit artwork under the Virginia Ave. parking garage will ever see completion—is yet to be seen.
Please enable JavaScript to view this content.