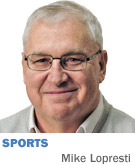 At Butler, it's time.
They have talked about the new Big East for months up and down Bulldogland. They have promoted it and marketed it and plastered it on the walls. They have also been picked to finish near the bottom of it. Now, comes the night to finally play in it.
Live, from Hinkle Fieldhouse, it's New Year's Rockin Eve. A party to remember. Hats and horns optional.
This won't be your garden variety New Year's Eve. The ball drops at 7:30 p.m., not midnight, and it'll be orange. This Auld Lang Syne comes with 3-pointers. Should old acquaintance be forgot, and never brought to mind? Possibly, if you're talking about Cleveland State in the Horizon League, or St. Bonaventure in the Atlantic 10.
Time to ring in the new year and the new world, with new faces. Say hello to Villanova.
This Dec. 31, the Big East will be busier than bartenders, starting early with St. John's vs. Xavier and ending late with Marquette visiting Creighton. Ten teams, five consecutive games, an all-hands, noon-to-midnight coming-out party. "If you had asked me at the beginning of the season if there was anything that stands out, I would have said that day," Butler coach Brandon Miller said. "From the start to the end, there couldn't be a better day to kick off the Big East."
So what if the league's geographical makeup doesn't seem to quite match the Big East name, with a member from Indiana and three more from the Central Standard Time zone? We live in a realigned conference world, where the Big Ten has 12 teams and the Big 12 has 10.
The really interesting part is that nobody can be sure about what happens next. For Butler's part, the nine wins before Christmas were promising, the victories over Purdue and Washington State exhilarating, the near-miss with highly ranked Oklahoma State encouraging. But …
"We haven't played a game in the Big East yet," Miller said. "All the comparisons to the Big East, and how we're going to do, we don't know. All we can do is worry about taking each game for what it is."
Some things we do know.
We know the new Big East should be more slippery than Indiana roads in January, and not a night of it will be easy for Butler. The league's pre-Christmas combined record was 85-29. The Bulldogs' first assignment, Villanova, started 11-0 for the first time in 52 years, beating Kansas and Iowa.
"I like where we're at. But I do think there is a small room for error with our team," Miller said. "We have to be very good at the details in order for us to compete and play well."
(Might improving on that 265th national ranking in free throw shooting be one of those details? But we digress).
We know that change is in the air at Hinkle Fieldhouse, nearing its 86th birthday. The place has hosted six U.S. presidents, the Billy Graham crusade, the Roller Derby, a three-ring circus, a six-day bicycle race—and now a monumental basketball coming-of-age event.
The fund drive for Hinkle's renovation has gone swimmingly. That includes 100 percent participation from Butler's athletics department, meaning all 374 student-athletes and 68 coaches and staff members have pitched in their pennies.
"Hinkle Fieldhouse, there's so much heart to it, and we want it to be around for generations and generations to come, like it has been," athletics director Barry Collier said. "Whenever you face a continual challenge like you do in college athletics, you just keep trying to get better all the time. That's what we call the Butler Way, and that will continue to be our method."
We know that the average attendance so far this season of 7,198 is about to go higher.
We know it will be easy to draw conclusions from one season in the Big East, but probably more logical to wait. "I would say it's going to be two or three years before we can get a good enough sample size to see all of where we are and what we need to do," Collier said. "The sample size of one year is probably not the way to look at this. We look at this as a 50-year move for Butler University, so we don't want to rush into any kind of judgment."
And we know things will be different, starting Tuesday, when the Bulldogs officially dive into the deep end of the pool. It's time.•
__________
Lopresti is a lifelong resident of Richmond and a graduate of Ball State University. He was a columnist for USA Today and Gannett newspapers for 31 years; he covered 34 Final Fours, 30 Super Bowls, 32 World Series and 16 Olympics. His column appears weekly. He can be reached at [email protected]
Please enable JavaScript to view this content.