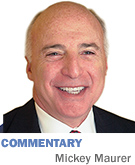 Each January I reflect on the prior year's columns. I am always curious about the topics and people I have written about over the course of the year. I hope you are, too.
In June I began a series on civic pride motivators. Public safety topped the list. I cited an FBI table of U.S. crime rates that ranked Indianapolis sixth-worst of 33 cities with populations greater than 500,000 and an issue of Neighborhood Scout that gave Indianapolis a three on a crime-index scale of 100. That means 97 percent of the cities in America are safer than our backyard.
The corpses continue to pile up. Recent break-ins on Indianapolis' far north side have brought these chilling statistics home to a population that thought it was immune. Time is running out for Mayor Greg Ballard. Unless he can tamp down the violence, he will find himself in a slugfest for reelection against crusader Joe Hogsett, U.S. Attorney for the Southern District of Indiana.
Second on the list of civic pride motivators was public education. Our children should be competitive with the rest of the world, but they are not and have not been for many years. Less than two-thirds of Indianapolis Public Schools students graduated in 2012, and less than one-half of students in IPS passed both the math and English portions of the state's standardized assessment test.
The solution lies at the very beginning—literally. If you don't catch a struggling kid by the third grade, you are bound to lose him. To prevent that, education must begin at the preschool level. David Harris, founder and CEO of The Mind Trust, an organization launched in 2006 under former Indianapolis Mayor Bart Peterson, agreed with me.
The Mind Trust empowers talented people with innovative ideas for improving education to drive change in our city's public schools. A card he sent in response to the column declared that Indianapolis is in the dark ages when it comes to preschool. If we draw the battle lines at age 3 and provide a quality preschool education for all, we can win this war. The idea is picking up steam. Meanwhile, Governor Mike Pence and Superintendent Glenda Ritz need to repeat preschool to learn an important lesson: play nicely.
Other civic pride motivators mentioned in the series were economic development, community leadership, and cultural and recreational facilities.
In the September column I wrote about the establishment of Freedom Indiana. This bipartisan statewide organization has undertaken a grassroots campaign to oppose a referendum on the proposed constitutional amendment that would permanently restrict marriage and civil union to a man and a woman. The quest is ably led by Megan Robertson, former communications director for Congressman Luke Messer. This Hoosier battle was chronicled Christmas Day on the front page of The New York Times.
Freedom Indiana has aggressively marshaled support across a broad spectrum. Indiana mayors—Republican and Democrat—have jointly expressed their disfavor with the amendment, as have major corporate entities including Lilly and Cummins. Educational institutions led by Indiana University and Ball State University also have climbed on board. Freedom Indiana promises wider support in the weeks ahead. The referendum would be an expensive, time-consuming, divisive and totally unnecessary exercise. Seems everyone knows this but the state Legislature.
At the end of October, I wrote that Eugene White, the former superintendent of Indianapolis Public Schools, was appointed interim President of Martin University by a unanimous vote of the trustees. I wrote in a Halloween column, "If White can be induced to remove that interim tag, the growth and achievement of Martin University will be scary." That is exactly what happened. White has created a five-year plan and has taken steps to bring the school back within the dream of its founder, Father Boniface Hardin.
Thank you for reading my columns last year and for responding. I have enjoyed our dialogue. Best of luck to all of us for a healthy and prosperous 2014.•
__________
Maurer is a shareholder in IBJ Corp., which owns Indianapolis Business Journal. His column appears every other week. To comment on this column, send e-mail to mmaurer@ibj.com.
Please enable JavaScript to view this content.