The Cultural Trail gained another dining stop with the transformation of a former chain pizza shop—which nobody but locals were likely to have even noticed was there—into Ember Urban Eatery (435 Virginia Ave., 340-1868). And while our visits didn't turn up anything particularly inventive or outstanding, we did find an inviting, friendly place that's a welcome addition to a neighborhood that's becoming increasingly dining-radar worthy.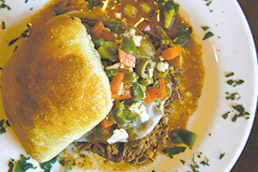 Italian Beef, smothered (in a good way) in spicy giardiniera, is a highlight. Parking is also a plus. (IBJ Photo/ Aaron P. Bernstein)
A bit of backstory: Condo sellers Rob and Shelly Ordendahl spotted the space when trying to sell space in the Villaggio at Page Pointe at Virginia and East streets. Now—thanks to restaurateur Tom Main—they have a place to feed the people they formerly helped house.
An intimate 60-seater anchored in American fare, Ember (or maybe it will be known as Ember Urban—only time will tell) keeps its lunch offerings fairly tightly in the $8.50-$9 range for sandwiches plus a side. The most a dinner entrée will set you back is $16.50.
Urban Wings ($9) promised a dozen "made our way," which means smoked with pull-right-off-the-bone tenderness. Wandering Chili ($4/$6) tipped toward the Cincinnati style of seasoning over spiciness. The Italian Beef sandwich ($9) offered well-seasoned and tender meat in a mass of giardiniera. If you aren't a fan of those Windy City pickled veggies, explore other parts of the menu.
The lunch portion of Pasta Arrabbiata ($9) was a stated favorite of our waitress. After trying it, I can see the pleasures in the subtle mix of mezzi rigatoni, a slightly spicy red sauce and fresh parmesan. But those pleasures bordered on the forgettably simple. It would have been better appreciated as a side to something stronger.
While it doesn't have the creative cache of nearby newcomers Rook or Bluebeard, Ember Urban Eatery does have a stop-in-for-a-bite appeal—as well as a parking lot—that could be kindled into staying power.•
—Lou Harry
__________
First in a month of theme-free restaurant reviews.
Please enable JavaScript to view this content.