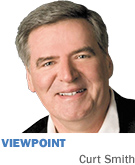 Among the more mystifying arguments against a constitutional amendment defining marriage as one man and one woman is the claim that having such a conversation creates an intolerant tone that hurts Indiana's business climate. It's mystifying because as we have respectfully debated this issue, Indiana's economy improved remarkably.
More mystifying still, however, is the claim that simply believing in traditional marriage constitutes intolerance and bigotry, which drives away jobs.
First, let's look at the business climate. Marriage-definition laws were strengthened in Indiana in the mid-'80s and our current statute (passed in 1997) further clarified that Indiana would not recognize same-sex unions from other states.
Since the issue took on a new urgency in 2003 (due to court rulings in Massachusetts), Indiana legislators have voted eight times in the House or Senate to let Hoosiers answer this core question for ourselves by amending the Constitution.
Yet throughout this decade-long debate, Indiana's business climate has steadily improved.
Chief Executive Magazine flatly declares Indiana is the best state in the Midwest for doing business. Since July, Indiana has enjoyed the fifth-fastest private-sector job growth nationally. The November (last available) Indiana jobs report showed we gained 25,300 private-sector jobs, the largest one-month increase on record.
That means Indiana was responsible for nearly 13 percent—one in eight private-sector jobs in the nation that month! This pulled our unemployment rate below that of our neighboring states, though still slightly ahead of the national rate of 7 percent.
Moreover, in August the prestigious Pollina Corporate Report declared Indiana the best place to do business in the Midwest and the fifth-best nationwide. It cited our pro-business policies, solid fiscal house and new right-to-work law. The Tax Foundation concludes we enjoy the 10th-best tax climate in America, just edging out pro-business, pro-marriage Texas.
All this while the pro-homosexual-marriage group Freedom Indiana (formally announced in August) began receiving out-of-state funds to lobby the Legislature to prevent the people from deciding what constitutes marriage. Thirty states have allowed the citizenry the right to vote to protect marriage via constitutional amendment since 2003.
In other words, as Hoosiers have been discussing and debating same-sex marriage policy in the Legislature, our business climate has steadily improved. Almost inconceivably, Indiana's bond rating is better than the U.S. government's.
Today, we are among the best places in the country to do business even as we retain a more established emphasis on marriage as a pathway to child well-being.
Now for the more troubling aspect to this argument. The other side says tolerance is accommodating all things. That's not tolerance. That's indifference. Tolerance is respecting views contrary to your own without compromising or sacrificing deeply held beliefs and convictions.
If we cannot have a public debate about important topics some find challenging or emotional, we will have lost our ability to govern ourselves. If we allow only one side to express itself, we have succumbed to bullying without engaging in fulsome debate.
For Indiana to have the most pro-business climate, we must recognize that kids do best when they are raised by their own two parents. That's why business leaders interested in Indiana ask about schools, tax policies (a barometer of family well-being), the work force, transportation and crime rates.
They know states that recognize and encourage this will always be the most prosperous, healthy and successful societies. Jobs follow healthy culture. And marriage is at the heart of a healthy culture.•
__________
Smith is president of the Indiana Family Institute. Send comments on this column to ibjedit@ibj.com.
Please enable JavaScript to view this content.