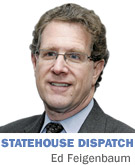 With January's legislative calendar frozen by the polar vortex, cross off "climate change" as an agenda item this session—the only thing guaranteed not to be considered in 2014.    
An uncommonly ambitious gubernatorial want-list is paired with scores of items lawmakers are coveting during the 10-week gathering.
Their discussions will occur against the backdrop of recently subpar state revenue reports and a subdued December fiscal forecast.
Two items grabbing headlines will be the constitutional amendment to define marriage as between one man and one woman, and a gubernatorial proposal to eliminate the property tax on business equipment and property.
Amending the existing same-sex marriage law into the Constitution features well-organized and -financed lobbying opposition. The second sentence of H.J.R. 6 restricting civil unions is now proving problematic. Some solons point to that clause to justify reconsidering previous backing.
Republican Gov. Mike Pence lost early message control over the business property tax issue when local government units and others needing the revenue framed it as a $1 billion loss for vital services. Pence quickly tried to reassure Hoosiers he wasn't proposing elimination without replacement. He sees it as an end point, working with lawmakers in forging a tax reform package to boost economic development competitiveness.
Pence also offers other economic-development goodies: promoting entrepreneurship by easing rules for businesses on raising capital through nontraditional means, and making the venture capital tax credit transferable. He wants $400 million invested in roads and freight transportation to jump-start "the next era of highway expansion." However, he faces a roadblock from lawmakers who directed that cash toward other expensive projects they believe are critical to economic development and quality of life.
Pence wants to help larger cities become more competitive through a decade-long, $1 billion seed-money effort leveraging other public and private investment. But details are scarce.
He seeks to change how agricultural land is taxed by eliminating the soil productivity factor. The change has long been sought by ag interests, but again raises "pay-for" questions.
His proposal to increase individual income tax exemptions—indexing personal and dependent child exemptions to inflation—will meet pushback over high costs and low individual benefits. He will find more support for helping families cut adoption red tape and expenses.
On the education front, Pence favors more charter-school freedoms, a new teacher-innovation fund, and financial assistance to encourage teacher mobility. The education wish list is facing fiscal and philosophical skepticism, but his big-picture item—a pre-kindergarten voucher program for disadvantaged students—will open doors for bipartisan compromise.
Environmental issues poised to get attention during the session include recycling improvements and launching a long-term statewide water resources plan.
The governor is leaning on federal officials to extend waivers allowing the Healthy Indiana Plan to continue covering uninsured Hoosiers, even as Democrats eye federal matches via Medicaid expansion.
Business interests wanted Pence to lead in changing common construction wage requirements. He deferred, leaving it to lawmakers. Watch for that issue to explode.
Emotion-laden issues may return, some simply to keep them alive for 2015, including major changes to alcoholic beverage regulation and gambling laws.
Some issues will emerge to begin future constructs for debate, such as tax credit continuations.
Lawmakers could choose to mend current laws. In this category, criminal code revision and expungement laws loom large, as do charter and takeover school matters, A-F school grading, student testing, school financing, incremental voucher expansion, and Common Core standards.
Matters where technology and events outpace current laws should emerge, including regulation of electronic cigarettes, drones, vehicle data "black boxes," electronic currencies and campaign finance laws.
Nostalgic about battles over certificates of need and health care facility expansion? You'll see efforts to impose moratoriums on new licensed nursing home facilities.
Assorted utility issues will come to the fore, as interests gird for major 2015 skirmishes.
Other issues—such as child care regulation and Indianapolis area mass transit—will seem hauntingly familiar.
Public employee pensions proved surprisingly controversial this summer. Legislative "clarification" might be forthcoming after public retirement system trustees voted unanimously to move toward placing the public employee annuity program with an outside provider.
Expect a bipartisan push addressing privacy concerns, an amorphous area fraught with legal and civil-liberties concerns and rapidly changing technology.
Call it cabin fever, but there seems to be more pent-up public policy than usual for a short session.•
__________
Feigenbaum publishes Indiana Legislative Insight. His column appears weekly while the Indiana General Assembly is in session. He can be reached at edf@ingrouponline.com.
Please enable JavaScript to view this content.