This week, I empty the notebook with thoughts on a quartet of unconnected arts experiences, including the Indianapolis Museum of Art's contemporary galleries, a furniture show at the Indiana State Museum, a Beef & Boards farce and an ambitious new CD.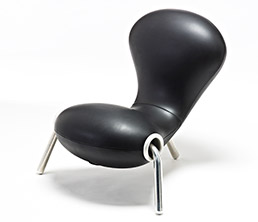 Style trumps comfort, above, in the IMA's contemporary design galleries, below. (Photos courtesy of Indianapolis Museum of Art)
First, even though the Matisse exhibit has been packed up, I encourage you to make a late resolution to visit the Indianapolis Museum of Art to check out the newly redesigned contemporary design galleries. Sure, there's less urgency in visiting permanent exhibits, but the upside is knowing that repeat visits will lead to a greater depth of discovery.
After three years of upgrades and reorganizing, more than 400 objects are now on display in a jaw-dropping, eye-opening array covering nearly 10,000 square feet. Argue the aesthetics of the Dyson DC11 vacuum, avoid the temptation to take a seat in one of the "that can't possibly be comfortable" chairs, and see what happens when visionaries attempt to make the ordinary extraordinary.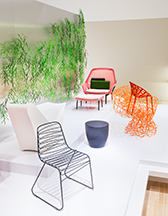 A double-header, of sorts, can be had by also visiting "Fearless Furniture," a juried exhibition at the Indiana State Museum featuring a wide range of work that demonstrates how functionality and artistic vision can work together.
Whether it's a dizzying chair by Alex Dorman, a seemingly stacked set of precariously balanced cabinets by Vincent Leman, or two variations on the traditional grandfather clock, the show offers a smart selection of approaches. You might find yourself coveting Hongtao Zhao's Cork Dog Bone bench or being moved by the way Cory Robinson painted lace and table together on "Forever After She is Gone."
__________
Also built to last is Ken Ludwig's door-slamming farce "Lend Me a Tenor," which has been remounted at Beef & Boards Dinner Theatre (where it played back in 1997). This production seemed even brisker than usual, with big laughs throughout, although, on the night I saw it, some too-big playing early on didn't leave the actors much room for escalation.
It concerns the visit of an Italian singing star to a regional opera company and the complications that arise after an accidental double dose of sleep-inducing meds. Revealing more would take away some of the pleasure for first-timers, so suffice it to say that Tito, the opera star, brought along two complete costumes for his performance of "Otello"—and that the opera company's gofer, Max, happens to have a terrific singing voice. And Max's girlfriend happens to have a crush on Tito…
Constructing such a farce is a deceptively difficult thing. The set-up has to be reasonably buyable and each character's goals clear. And the resulting near misses, misunderstandings and miscommunications have to grow from that anchor. "Lend Me a Tenor," while not demonstrating the best comedic work that's come out of B&B, certainly offers a fun winter diversion. And the operatic interludes play quite nicely.
__________
For another kind of getaway, give a listen to "Far Away from Everyday," the recent CD from harp guitarist/pianist/composer Brad Hoyt. It's a hugely ambitious project, featuring 14 original tracks and 30 musicians (including a couple of Grammy winners). A highlight for me is the gypsy jazz "Sharper's Revenge," with guitarist Joscho Stephan. I hear a movie score in there, although that in no way implies this disc doesn't stand on its own. Try it as the soundtrack to your next commute.•
__________
This column appears weekly. Send information on upcoming arts and entertainment events to lharry@ibj.com.
Please enable JavaScript to view this content.