It's no secret that The Jazz Kitchen (5377 N. College Ave., 253-4900) is an Indianapolis' gem, attracting talent from around the world as well as serving as home for some of Indy's finest musicians.
What might be a secret to some is that The Jazz Kitchen shares its kitchen with Bebop Pizza (705 E. 54th St., 253-1340), which has a low-key entrance just around the corner.
 
Bebop Pizza offerings include the State Fair, with sausage and peppers. (IBJ Photo/ Eric Learned)
A recent trip found the crew taking care not only with their tossed-in-the-air dough but also with finding just the right amount of oven time for their 8-inch, 12-inch and 16-inch pies.
Single-topping pies ($6.95, $12.95, $15.45) are available for DIY minimalists, but Bebop also offers a complement of Specialty Pies more artfully crafted than those at most pizzerias. Specifically, I'm a fan of the State Fair ($7.95, $14.95, $17.95), where the thin-ish crust houses a smart balance of kicky Italian sausage crumbles, bell and banana peppers, and red onion. An "Us vs. the Kids" special knocks $5 off a 12" cheese pie if you also order a medium or large specialty. A nice duo for those with both adventurous and risk-averse folks to feed.
The only downside: These pies have their best flavor when hot, so a reheat at home might be required if you live more than a block or two away.
You can also order Lasagna ($5.95—although sold out by 6 p.m. on my most recent visit), Meatballs & Spaghetti ($4.50) and Pesto Chicken Asiago ($5.95). Supplements include Cheesy Pizza Stix ($4.95 with the option to replace the usual cheese or marina with creamy pesto dip).
I would be remiss, of course, if I didn't remind you of the quality heading out of the kitchen in the other direction. A recent visit to The Jazz Kitchen, during a packed show, found service friendly and committed to not distracting from the action on stage.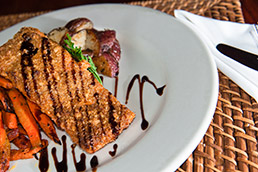 Walnut Crusted Salmon at The Jazz Kitchen makes a good show even better. (IBJ Photo/ Eric Learned)
With plenty of time before the show (experience has shown it's best to arrive 45 minutes before the show), we started with a pair of subtle Homemade Crab Cakes ($12), served with creole mayo and cocktail sauce. Even better was the Walnut Crusted Salmon ($19), in which brown sugar and walnuts sweetly (but not too sweetly) coated an eight-ounce fillet of a former Atlantic Ocean resident.
I couldn't resist Satchmo's Etoufee ($14 with a $4 upgrade if you want to add a trio of shrimp), and its seemingly bottomless portion lasted most of the show. The White Chocolate Blueberry Bread Pudding ($6) with bourbon-infused caramel sauce almost caused us to direct our standing ovation toward the kitchen.
Want to sample without having to pay a cover charge? Try a Monday night, when some of Indy's favorite players offer free sets.•
—Lou Harry
__________
Second in a month-long series of theme-free restaurant reviews.
Please enable JavaScript to view this content.