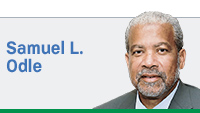 I don't think anyone can disagree we need a strategy for making the slogan "Indiana Works" a reality.
Indiana has 222,000 Hoosier adults still out of work. We also have some of the most successful small manufacturing companies in the country.
We have 4,400 businesses with 10 or more employees. If we could get each of those companies to increase their business 25 percent, that would create many more jobs, and make Indiana Works a reality.
Yes, some of the workers will need to be trained, but companies can figure that out when demand for workers is high.
In listening to comments from a lot of learned people in our community over the last several months, I've concluded that one of our biggest challenges is that the leadership—political, business and otherwise—in the Indianapolis area is risk-averse and unimaginative.
Sometimes the truth hurts, and this is best demonstrated by our focus on low taxes and mediocre efforts to really grow jobs.
This increase in jobs would have many spin-off benefits and actually create a need to bring in workers from out of state, which would stop the stagnant population growth Indiana has been seeing the last 10 years.
Many will ask how we get private companies to grow.
My suggestion is to use our great university system. Pair up each company with our university business and technology schools like Indiana, Purdue and Ball State universities and Rose Hulman Institute of Technology, as well as the University of Notre Dame, the University of Indianapolis, DePauw University, Wabash College and others. The schools can help them develop and execute on their own individual plan.
It would provide the companies with brain power they don't have and maybe cannot afford. It would also enhance the educational experience for students and educators by connecting them to real-world problems.
The next challenge will be that workers may not have the skills the companies need. Solution: Redirect some of our state's resources like Ivy Tech Community College and other job training resources to do on-site customized training at the companies.
We can also engage our investor-owned educational sector, like ITT Educational Services, Harrison College and others.
Rather than the scattered efforts that depend on providence matching jobs and workers, we can use our dollars in a targeted way and measure results in real time. The investor-owned education sector already does a better job of this.
Indiana is blessed with many well-meaning, compassionate, warm, caring people. But Indiana is stagnant. We have to face that reality. We are stagnant because our political and business leaders are unimaginative and risk-averse.
Indiana needs the business sector and political sector partnering together to make "Indiana Works Better Than Anywhere Else" a reality.•
__________
Odle is the former chief operating officer of Indiana University Health and CEO of Methodist and University hospitals. Send comments to [email protected]
Please enable JavaScript to view this content.