The weather at this year's Super Bowl in New York could have a big impact on Indianapolis' chances of landing the 2018 Super Bowl.
The game Feb. 2 and the week-long run-up to it will be fresh in the minds of the 32 NFL owners when they gather for their annual meeting in Atlanta in May to hear 2018 Super Bowl bid presentations from Indianapolis, Minneapolis and New Orleans.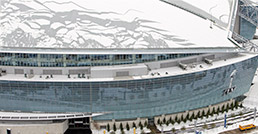 A freak winter storm in Dallas was a nightmare for the 2011 Super Bowl host. (AP photo)
Since the game this year is in one of the world's biggest media markets, everything is expected to be magnified. There's no shortage of people who think a major winter storm that week could cripple the chances of cold-weather cities' landing the event in the future.
"Suffice it to say, a snowstorm in New York this year wouldn't help Indianapolis' or Minneapolis' chances," said Jim Steeg, a California-based sports-event consultant and former NFL vice president who planned 26 Super Bowls.

Melangton
Steeg noted that, while all three finalists for the 2018 game have indoor stadiums—unlike New York/New Jersey—there's much outside the game to be concerned about, including sponsor and league events that winter weather could hamper.
"Good infrastructure and organization is critical, and Indianapolis certainly has that, but there are some things you can't overcome," said Robert Tuchman, president of New York-based event planning firm Elite Experiences, which has organized events at several Super Bowls. "We saw that in Dallas in 2011. Another shot of winter weather could create a long-lasting memory."
Local group heads to NYC
While many eyes will be focused on the game—the first played in an outdoor stadium in a cold-weather climate in the Super Bowl's 48-year history—a contingent of five from Indianapolis, including local bid committee boss Allison Melangton, is heading to New York for the three days leading up to the game to reconnoiter a wider array of happenings.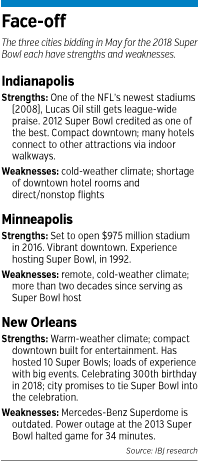 The Indianapolis group will head home before the game is played.
"Their stadium set-up is vastly different from ours," Melangton said. "It's so different that we don't feel like going to the game would be time well spent."
The Indianapolis group will check out New York's Super Bowl Boulevard—the Big Apple's answer to Indy's Super Bowl Village—and other aspects of the city's hosting duties.
And naturally, Melangton's group will have an eye on how New York and New Jersey handle the weather. A snowstorm that dumped almost a foot of snow on Indianapolis Jan. 5 and 6 has raised local concerns. Many businesses here were forced to close for two days and numerous schools were shuttered for an entire week as crews struggled to clear traffic arteries and repair power outages.
"I can tell the weather is on people's minds there. We've gotten a number of calls from Indianapolis about the weather impacting the Super Bowl," said NFL spokesman Brian McCarthy.
Minneapolis unconcerned?
Oddly, McCarthy said he hasn't received questions from folks in Minneapolis about a weather-impacted Super Bowl. McCarthy assured folks from Indianapolis that their city's bid would be "evaluated on its own merits," not on what happens in New York. Others aren't so sure.

Moroknek
Dave Moroknek, president of Indianapolis-based MainGate Inc., has numerous reasons to be concerned about this year's Super Bowl.
His company is handling merchandise sales for the Super Bowl, as it has the last three. He noted that earlier this month when it was zero degrees in New York, NFL officials in the league's New York headquarters were concerned. If winter weather grips the game, he said, the ripple effect will extend far beyond the Big Apple.
"If there's a Farmer's Almanac-type snow, I think there's a good possibility NFL team owners would say, 'Let's play it safe for a while and opt for a warmer-weather climate,'" Moroknek said.
Tuchman said weather has long been a concern for the Super Bowl, dating back to 1982 when Detroit hosted its first Super Bowl and 1992 when Minneapolis hosted the game.
Memories of a major winter storm during the 1979 Cotton Bowl in North Texas kept NFL owners from playing the Super Bowl in Dallas, Steeg said, until Cowboys owner Jerry Jones finally helped land the game for his new indoor stadium in 2011.
Then, that very Super Bowl refocused team owners and league officials on the weather. North Texas' worst winter weather in 40 years besieged Dallas with ice and snowstorms, wreaking havoc on the game and the run-up to it.
NFL owners haven't forgotten. Dallas was among three teams cut out of the bidding for the 2018 Super Bowl at an owners' meeting in October.
"I think after 2011, you saw that planning for the weather became even more important," Tuchman said.
Cloak and dagger
So competitive is the bidding expected to be for the 2018 Super Bowl and so important are weather-contingency plans that a city's blueprint to deal with inclement weather could tip the scales.
That's the reason, Indianapolis officials said, that they won't publicly discuss their weather plans.
"That's not something we want the people from Minneapolis to see," said Marc Lotter, spokesman for Indianapolis Mayor Greg Ballard.
Melangton also has declined to discuss the city's plan "for competitive reasons." But she added that she has "absolutely no doubt" the plan could handle even the type of storm heaped on Indianapolis earlier this month "and anything else Mother Nature could have thrown at us."
After the storm in Dallas, the NFL began requiring host cities to be better prepared for natural disasters. Indianapolis in 2012 was the first city held to the higher standards; now, cities are required to detail those plans during bidding.
Sources with knowledge of Indianapolis' plan said it involves partnering with all the adjacent counties and the Indiana Department of Transportation. In addition, dozens of private contractors would be at the ready.
NFL demanding more planning
Frank Supovitz, the NFL's chief of Super Bowl operations, said the league changed the way it assesses risk in the contingency plans for Super Bowls because of what happened in Dallas.
Supovitz said league officials and host committees previously prepared for the "most likely worst-case scenario." Now, he said, the NFL asks for a comprehensive plan involving city, state and federal officials, stadium officials and the operators of training venues for the AFC and NFC championship teams.
Indianapolis never got to test its plan. Central Indiana welcomed the Super Bowl in 2012 with unseasonably mild temperatures and not a flake of snow.
Melangton said she's choosing to focus on her task rather than speculating about weather.
"I try not to let my mind wander too far off into the weeds of wondering what I'd do if I was a team owner," Melangton said. "The only thing we can do is make sure our plan is bulletproof. I'm confident we're doing that."•
 
Please enable JavaScript to view this content.