Regular readers of this column know that the food truck phenomenon isn't something I've celebrated. Sure, if I worked in an office complex a drive away from anything besides vending machines, I'd welcome the arrival of a mobile kitchen in my parking lot. But with noisy generators, not-all-that-cheap prices and a drain on brick-and-mortar businesses, I don't see them as a boon to downtown anywhere but surrounding the convention center.
And don't get me started on the admission-charging food truck festivals. Next thing you know, we'll be paying for bottled water.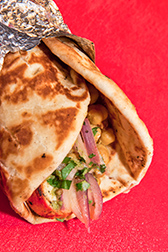 The Naan Wrap comes stuffed with tandoori chicken, garbanzo beans and more. (IBJ Photo/ Eric Learned)
That said, I'm thrilled that Spice Box Indy—one of the better food trucks—has established a wheel-free home at City Market (222 E. Market St.). With a smartly limited menu (if more than a few folks are in line trying to make complicated decisions, it's too tempting at the market to go elsewhere), it's another bright spot in the market's long-in-the-making rebirth.
With a Yats-ish pricing set-up, Spice Box offers a sextet of entrees—plus a daily special—at $7. A split of two entrees runs $9. The only upcharge comes if you want spicy rice ($1 additional). There are also "Spice Crafted" choices running from $7 to $9.
On a visit with a guest, he ordered the Bollywood ($9), which allows a choice of
entree with Basmati Rice and a Spice Wrap. He went the vegetarian route with Palak Paneer, or spinach with paneer cheese. The rich greens blended well with the creamy dairy, with just enough of a seasoning kick. The wrap, a roti filled with chicken and caramelized onions, made the meal feel like a half-sandwich and salad combo served south-Asian style.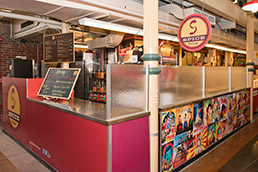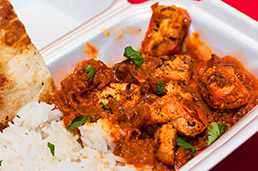 Spice Box Indy's City Market booth, top, serves up Chicken Tikki, above. (IBJ Photo/ Eric Lerned)
I split my choice, opting for the Chicken Tikki, a marinated chicken cooked in tomato-based sauce that made me wish I had committed to it completely. But it shared the Styrofoam with the Spicy Shrimp, a quartet of medium shrimp in a rather bland brown sauce.
During another stop, though, I feel like I found the winner: The nondescriptly named Naan Wrap ($8) proved to be the best City Market sandwich I've had since Aesop's Tables left years ago, taking the Aesop's Chicken with it. With strips of tandoori chicken, garbanzo beans, hints of ginger and honey, and a delicious (if seemingly pre-fab) casing of naan, this two-hander will defy any attempt to eat it neatly while doing business on your cell phone. But that's fine. Attention should be paid when enjoying such a treat.
Speaking of treats, at Spice Box you can upgrade your $1 can of Coke to a more exotic $2 Thums Up cola or Limca soda.
But like most alternate soft drinks, the novelty value doesn't justify the additional cost.
Further promising City Market news: By the time you read this, The Tamale Place should be open just up the aisle from Spice Box, making the west wall of the market even more interesting.•
—Lou Harry
__________
Third in a month-long series of theme-free restaurant reviews.
Please enable JavaScript to view this content.