If the economy holds and the stock market keeps rising, the number of U.S. initial public stock offerings this year could rival 2013's blockbuster 222—the most since 2004—that raised $59.6 billion.
But Indiana-based companies haven't caught the IPO bug, with just two companies going public in 2013, raising $472 million: Indianapolis-based mortgage lender Stonegate Mortgage and Evansville-based Springleaf Holdings, which makes nonprime consumer loans in 26 states.
However, Hoosier companies are beginning to at least ponder the potential benefits of going public, observers say.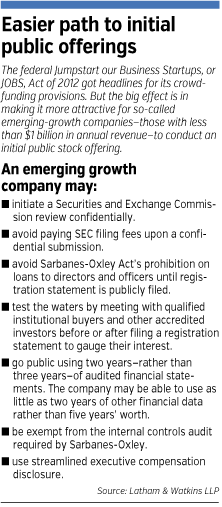 "You'll see companies moving up their time lines," said David Mann, a cofounder and managing partner at Spring Mill Venture Partners. "I'm hearing that buzz and talk and energy I didn't hear" in previous years.
Interest "is starting to at least stir. They think, 'What size do we actually have to be and how much will it cost?'"
The threshold for going public might be lower in light of changes in federal law, noted David Millard, chairman of the corporate department at Indianapolis-based Barnes & Thornburg.
He points to the Jumpstart our Business Startups Act of 2012. The so-called JOBS act initially created a buzz for enabling future regulations that could allow for crowd funding, in which investors could buy a stake in young companies through an Internet portal.
But often overlooked were JOBS provisions that lower IPO barriers for so-called emerging-growth companies of less than $1 billion in annual revenue.
For example, such a company could initiate a Securities and Exchange Commission review confidentially. They also have more freedom to converse with prospective investors and less burdensome financial reporting requirements. While the act clearly reduces the aggravation of going public for eligible emerging-growth companies, it's not clear to what extent it would reduce the costs.
Still, "I think 2014 and beyond will be more positively impacted by that [act]," Millard said.
So would a continued run-up in the stock market.
"With a 30-percent return in the equity market [in 2013] and equity prices at all-time highs, it is not surprising that the IPO activity is the best in 10 years," said Charles Trzcinka, a professor of economics at Indiana University
But why did so few Indiana companies go public last year?
Sure, the state has a smaller population relative to neighbors such as Illinois, where there were at least six IPOs last year. Also, Indiana doesn't necessarily have a lot of companies growing revenue 100 percent or more year-over-year, Mann said, at least those large enough to be ready for an IPO.
The size of company is important relative to an IPO's costs.
PricewaterhouseCoopers published a survey in 2012 that found 41 companies that received gross proceeds of up to $50 million from an IPO spent an average of $4.1 million in offering costs—everything from legal fees to road shows to auditing to exchange listing fees.
The cost of an IPO averaged $8.5 million for the 115 companies surveyed that raised between $51 million and $100 million.
Many Hoosier companies have also found venture capital and private equity to tide them over—at least to this point.
A big recipient of such funding, and a company often mentioned as a possible IPO candidate, is Indianapolis-based Scale Computing Inc.
Scale, which makes "datacenter in a box" hardware, has kept its financials close to the vest, so it's hard to say how quickly it is growing and how much money it needs down the road.
The company founded by Rose-Hulman Institute of Technology graduate Jeff Ready has received at least $29 million in funding since 2010 from various rounds of investments by Silicon Valley venture firms. Local funds including Mann's Spring Mill, locally based Heron Capital and Cincinnati-based Allos Ventures have also put millions into Scale.
Indeed, in 2013, 82 venture-backed firms had IPOs, raising $11.3 billion, according to the National Venture Capital Association.
Around the country, at least, "the venture capital industry really needs some IPO exits," said Millard, including in the technology sector.
Tech sector not a given
For now, there is still appetite among investors wanting to get a piece of promising technology companies. Social media, in particular, is an area of tech that investors can understand. Witness social media star Twitter's IPO, the fourth-largest last year, which raised $1.82 billion.
Many of Indiana's tech companies are small and most are focused on business-to-business enterprise software—not high-profile social media, business-to-consumer offerings. But then the more esoteric genre didn't stop email marketing firm ExactTarget from going public in 2012, or call center software developer Interactive Intelligence, in 1999.
But oftentimes, Indiana's tech companies change hands before reaching the stage of going public. Take marketing software maker Aprimo Inc. It planned an IPO in 2008 but withdrew it after the economy tanked. The company was acquired by Ohio-based Teradata Corp. for $525 million in 2010.
In central Indiana, there's been a virtuous cycle of sorts among tech firms in which "you build them up and you sell them" and start another one, noted John Reed, an investment banker at David A. Noyes & Co.
Many tech entrepreneurs relish creating companies but bristle at the thought of running a public company "and that the market will scrutinize you unmercifully every quarter," Reed added.
One need only to look to Angie's List Inc., the Indianapolis-based company that provides consumer reviews of service companies. Its stock is a darling of short-sellers, who are betting it won't last. The company, which went public in 2011, currently faces at least two lawsuits from investors who allege company executives exaggerated the company's prospects to gin up the stock price and sell their own shares at a profit—allegations denied by the company.
Window of opportunity
Given Indiana's large percentage of industrial/manufacturing companies, it perhaps is more likely any upcoming IPOs will come from that sector, figures Mark Foster, portfolio manager and chief investment officer of Columbus, Ind.-based investment firm Kirr Marbach & Co.
Of course, in 2013, the two Indiana companies that went public came from the financial sector. Stonegate Mortgage was attractive to investors including Kirr Marbach for its prospects for growth in taking up slack in portions of the mortgage market abandoned by banks during the financial meltdown. Stonegate also has been snapping up other mortgage companies, Foster noted.
IPOs in the state's banking industry probably aren't in the cards this year, Reed said. During the recession, many banks cleaned up their balance sheets and mature banks "for the most part are well-capitalized."
Nor in recent years have startup banks sought to raise capital through an IPO.
Overall, though, IPO interest likely will remain strong as long as equity markets do well again this year, Foster said.
"The appetite is there and the window is open."•
 
Please enable JavaScript to view this content.