A concert venue rivaling the size of Klipsch Music Center in Noblesville has emerged as the favorite in a bid to redevelop the former General Motors metal-stamping plant on the western edge of downtown.
The proposal from developer REI Investments to build the outdoor amphitheater is getting serious consideration from the entity charged with selling the site, several sources familiar with the discussions told IBJ.
The GM stamping plant opened in 1930 and employed more than 5,000 at its peak. (IBJ file photo)
REI President Mike Wells declined comment, citing a confidentiality agreement with the Michigan-based Revitalizing Auto Communities Environmental Response, or RACER, Trust. The group, with backing from city officials, could announce a decision as soon as February.
"Is it possible we would support [a concert venue]? The answer is yes," said Deron Kintner, the city's deputy mayor for economic development.
The three other finalists vying to redevelop the property are Ambrose Property Group, Buckingham Cos. and Keystone Group.
Though details of REI's proposal are sketchy, sources say the firm has recruited concert promoter Dave Lucas to help with the development. Reached by phone, Lucas declined comment.
Lucas is a heavy hitter in the music industry who adds instant credibility. He and Steve Sybesma founded Sunshine Promotions and developed what is now Klipsch Music Center. Lucas started Live 360 Group after they sold Sunshine Promotions to SFX Entertainment. Clear Channel Communications acquired SFX and in 2005 spun off Live Nation, which now operates Klipsch.
It's unclear whether the concert venue would take the entire 102-acre GM Stamping Plant site or if REI's plans contain other uses for the property. Sources say RACER could incorporate a piece of one of the other developers' proposals in the final version.

Kintner
If REI is successful, the concert venue would follow the JW Marriott-anchored hotel campus on REI's list of major downtown projects. It developed the hotel with Merrillville-based White Lodging, helping the city land the 2012 Super Bowl.
REI also partnered with Milhaus to submit a proposal to the city for an 18-story tower to be built on part of the former Market Square Arena site, but the city picked a rival proposal from Flaherty & Collins Properties.
REI's proposal for an outdoor arena has the support of Indianapolis Downtown Inc.
"A concert venue would be a tremendous asset for downtown," IDI President Sherry Seiwert said. "I think it would invite an even wider range of visitors and probably help to further improve the image of our downtown and its vibrancy."
Not everyone onboard
But not everyone is excited about the idea. The GM property sits on the western edge of downtown along White River south of the Indianapolis Zoo—close enough to White River State Park that Executive Director Robert Whitt is worried.
The Farm Bureau Insurance Lawn at White River State Park opened in 2004 and has become one of the more popular entertainment sites in Indianapolis. It has a capacity of 7,500.

Whitt
The venue last year hosted a dozen concerts, ranging from popular acts such as Imagine Dragons, The Lumineers and Carly Rae Jepsen. Whitt is hopeful The Lawn can schedule even more concerts this year and in the future, without facing competition from such a nearby venue.
"I don't know exactly how it would play off of The Lawn," he said. "But I have expressed to key decision-makers my concerns about it."
Chief among his worries is the ability to continue attracting known acts in the shadow of such a large complex. Whitt acknowledged he doesn't know the size of the proposed amphitheater or any other specifics. But if the decision were up to him, the venue "probably wouldn't be my first choice" for the site.
"We've really built a strong following and we want to continue that," Whitt said.
A larger downtown center, though, likely would attract wider-known musicians who can fill more seats and are better suited to play big venues such as Klipsch Music Center. Many believe there's enough room in the metropolitan area for downtown and suburban music centers.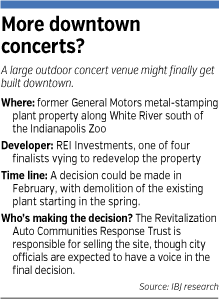 One of the biggest challenges a large downtown venue could face in that location is getting vehicles in and out of the property, said Abbe Hohmann, president of Site Strategies Advisory LLC.
"Is it the highest and best use for the land?" Hohmann asked. "It's an interesting choice."
Building a downtown concert center has been tossed around for years. The original plan for Deer Creek was to be downtown, Kintner noted.
But a slow approval process and opposition from residents derailed the plan.
Demolition next step
RACER selected the four finalists from a pool of 12 developers on a local, regional and national scale that it invited in August to submit bids for redevelopment.
Plans from Ambrose and Buckingham primarily are mixed-use developments with office, residential and retail components, while the proposal from Keystone contains plans for a soccer stadium where his Indy Eleven soccer team could play.
Like REI, the other three finalists have been involved in high-profile local projects.
RACER said it won't divulge the winning developer until it signs a contract.
"It's very difficult for me to predict with any certainty a date when that will occur," said Bruce Rasher, RACER's redevelopment manager. "But it should be sooner rather than later."
The criteria RACER is considering in selecting a developer includes the price one is willing to pay for the property, how many jobs the proposal might create, and the reputation of the developer.
The GM plant opened in 1930 and employed more than 5,000 at its peak.
Denney Excavating Inc. in Indianapolis has been awarded the contract to demolish the facility. RACER is in the process of getting the necessary approvals for demolition, which should be finished by the end of the year, Rasher said.•
 
Please enable JavaScript to view this content.