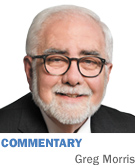 The legislative season is in full swing. In recent years, this has meant various government entities, here in Indiana and across the country, attempting to win support from lawmakers to eliminate the requirement of running public notice in newspapers. Saving money is the stated goal, and the alternative offered is to post those notices on their own government websites.
When was the last time you spent any time on a government website? Exactly. And if you did give it a shot, chances are that the information you were looking for was difficult to find. Additionally, government entities posting their own public notice on their own websites is a bit like the fox watching the hen house. Less government transparency and accountability is the likely result.
You hear about public notice, but what is it? Public notice is information alerting citizens of government or government-related activities that may cause a citizen to take action. Traditionally—and effectively—newspapers, including IBJ's sister publication the Court & Commercial Record, have published public notices.
The purpose of public notice is to display information in places where the public is likely to actually see it. An important premise found in federal, state and local governments is that information about government activities must be publicized in order for people to make well-informed decisions. Public notices provide this sort of transparency and accessibility to citizens who want to know more about government actions. Public notice provides the opportunity for the public to influence governing bodies and allows the public to be an active participant in a democratic society.
Public Notice Resource Center Inc., a not-for-profit that disseminates information about the value of public notice, lists four long-standing tenets of a valid public notice:
• Public notice must be published by an independent third party. A public notice must be published in a forum independent of the government, typically in a local newspaper. An independent and neutral third party has an economic and civic interest in ensuring that the notice-delivery requirements are followed.
• Public notice must be archivable. A public notice must be archived in a secure and publicly available format. Print newspapers have always fulfilled this element because a public notice published in a newspaper is easily and instantly archivable in several places and formats. Newspapers are usually archived by the publishing company and by libraries. These archiving venues provide the public the option to retrieve the notices for years after date of publication.
• Public notice must be accessible by all segments of society. These days, newspapers are also posting public notices on their own websites and on statewide press association public notice websites for even greater accessibility and distribution.
• Public notice must be verifiable. The public must be able to verify that the public notice was not altered once published. In a newspaper notice, an affidavit is provided by the publisher, which can be used in an evidentiary proceeding to demonstrate that a true copy was published as well as the exact wording that was used.
Public notices serve as a conduit of information from the government to the public. They enable citizens to monitor the actions of local governments, and events occurring in the local court system. Public notices allow citizens to serve as watchdogs for fraud and incompetence by both government officials and private interests.
Through the publishing of financial reports, citizens can see if tax dollars are being wasted. Further, through public notice, citizens are given the opportunity to make their voices heard in public hearings and meetings.
Citizens across the nation have used public notice and public hearings to object to changes in their community that could depress property values or alter the fabric of the area. Similarly, citizens have been able to participate in changes that enhance their communities, such as the construction of parks and other improvements. Allowing the public to influence the governing bodies of their local communities is crucial to the functioning of a democratic society.
So, as cities and towns and other government bodies encourage legislators to eliminate public notice in newspapers again this year, citizens need to stand at the ready to defend their right to know.
Last year, I was asked to testify in a Senate hearing about the necessity of maintaining the long-standing tradition of requiring public notice in newspapers. I'll gladly go back again this year and every year thereafter, if necessary. Government transparency and accountability is a cause worth defending.•
__________
Morris is publisher of IBJ. His column appears every other week. To comment on this column, send e-mail to gmorris@ibj.com.
Please enable JavaScript to view this content.