I've been avoiding "Defending the Caveman" since the early 1990s, when Rob Becker's one-man show still featured Rob Becker playing Rob Becker.
Back then, I was performing in comedy clubs, and the informal consensus among comics—who, like me, had not seen the show—was pretty negative toward Becker and his creation. Here, we grumbled, was a glorified stand-up act, built on an overly familiar premise (men and women sure are different—surprise!), stretched to an hour and a half. Backing it with a cave set instead of the usual comedy club faux brick wall made little difference.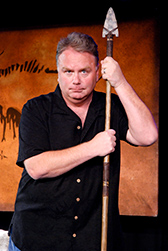 Vegas star Kevin Burke brings "Defending the Caveman" to Theatre on the Square. (Photo Courtesy of Theatre on the Square )
Even more irksome to comics: Becker was wildly successful, getting patrons to pay theater instead of comedy club prices to hear his spiel. He later went so far as to cast other people in the show so he could be two places at once and, ultimately, didn't have to do his semi-biographical show at all, turning it over to the likes of Chicago-improv-trained Kevin Burke, now of Zionsville, who toured the show and played it in Vegas for nearly a decade.
But after skipping "Defending the Caveman" during its many tours, bypassing it on Broadway, and dodging it in Vegas, I finally caught the show at Theatre on the Square, where it—and Burke—have settled in for what TOTS hopes is a long, long run.
That wouldn't surprise me. Because "Defending the Caveman" is a crowd pleaser—assuming that crowd is made up primarily of couples who want everything they ever learned from sitcoms to be validated.
Women are gatherers adept at collecting information. Men are task-oriented and would rather do than share. Women like to shop. Men like to control the remote. A man, says Becker (via Burke), would never ask another man to sit with him and gaze out at a lake. But if he can call it fishing, he's fine. Women care about wedding invitation envelopes.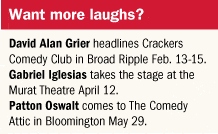 Rather than saying such differences should divide, Becker pushes the idea that good relationships come from understanding the culture of the other sex. And Burke delivers it all jovially, with a blue-collar friendliness that effectively masks the fact that he's done the show literally thousands of time. Only in the end, briefly, did the actor and the show feel overtly self-satisfied.
On my visit, the audience ate it all up, offering up the outright prolonged laughter and the knowing nudges that Burke and Becker have been honing for decades. Me, I smiled occasionally, admired Burke's skills, was never bored, and enjoyed the fact that a full Friday-night house was having such a good time.
If you've watched too many "King of Queens" reruns and want to get out of the house, this is probably the perfect show for you—and your spouse.•
__________
This column appears weekly. Send information on upcoming arts and entertainment events to lharry@ibj.com.
 
Please enable JavaScript to view this content.