In the 11 years the Gen Con convention has come to Indianapolis, local hospitality officials have learned what to expect.

Officials have tailored services to the massive group of game lovers—45,000 last year—that descends on the city, to pry as much cash as possible from their fingers.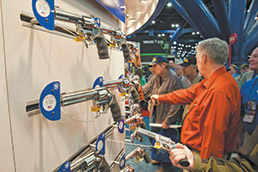 Many Indianapolis businesses are expected to cash in when the National Rifle Association comes to town in April. Oddly, local gun shops aren't expected to see any uptick in business. (AP photo)
"We know they stay up late, so some [hotels, restaurants and stores] have adjusted their service hours and we always stock up on lots of Red Bull and Mountain Dew," said Jim Dora Jr., CEO of General Hotels Corp., which operates 11 hotels in Indianapolis, including downtown and at Indianapolis International Airport.

Knowing not just the raw demographics of a show but also attendees' likes and dislikes has become a central part of the city's tourism and convention strategy.

But it hasn't been so easy to anticipate the whims of the gun-loving crowd expected to gather at the Indiana Convention Center April 25-27 for the National Rifle Association annual convention.

It's the first time the NRA has held its show here, and the formidable lobby isn't the most forthcoming about its demographics. So local hospitality officials are trying to get a handle on what to expect.

They've studied past NRA conventions, but NRA officials say the 2014 confab will draw a fair amount of new show-goers from the region.

The scene—including the makeup and size of the crowd—is also influenced not only by what's going on within the organization but also national political issues, particularly the strength of any momentum to restrict gun ownership.

In the wake of the Sandy Hook Elementary School shootings in December 2012 and the resulting national debate about

gun-control laws, the 2013 NRA convention in May in Houston drew a record crowd of 86,228—a 15-percent increase from 2012. Houston officials also credit a large population of ranchers, farmers, hunters and other gun owners living in the vicinity with swelling attendance.

NRA insiders also say membership has surged since Barack Obama's first election as president in 2008 because he is perceived as anti-gun.

One thing is certain: The enormous show could be a windfall for local businesses, especially those downtown.

With an expected 70,000 attendees, 700-plus exhibitors and $55.4 million in economic impact anticipated by the NRA and by the city's tourism marketing arm, Visit Indy, this will be the largest trade show or convention Indianapolis hosts this year and the second-biggest ever.

Hospitality officials think the impact estimates are low. The show has grown consistently in recent years, and Indianapolis is nestled in a part of the country that loves hunting and the outdoors.

Regardless, the convention dwarfs most other trade shows and conventions the city hosts.

The next-biggest, Gen Con, scheduled Aug. 14-16, is expected to draw 49,000, with an economic impact of $49.2 million.

The NRA event will draw more people and ring up more visitor spending than the Big Ten Conference's men's basketball tournament at Bankers Life Fieldhouse and football championship game at Lucas Oil Stadium combined. And it's more than double the size of seven of the 10 biggest conventions Indianapolis will host in 2014.

"We're really excited to see what it brings," Dora said.

Officials for Visit Indy confirmed that—outside of such massive sporting events as the Indianapolis 500—the NRA show will be the city's largest gathering in both size and scope in more than a decade.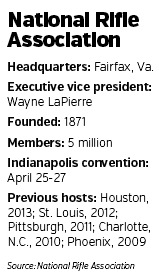 It is one of a small handful of shows that will use the entire convention center since a $275 million expansion was completed in early 2011. That space includes 11 exhibit halls and 71 meeting rooms totaling more than 650,000 square feet.

The convention will also hold three events—including a concert featuring such big-name artists as Alabama and Sara Evans—at Lucas Oil Stadium.

The show's size, and economic significance, is demonstrated in another, more subtle way. The NRA often draws polarizing opinions, and the local hospitality industry is treading extra cautiously to not say anything about the group that could be perceived as negative. Several hospitality executives declined to discuss the show at all, and others spoke only on conditions their names not be revealed.

Guns galore

One thing is certain about the NRA show: It will draw a large number of gun-toting people downtown.

That shouldn't be an issue, said NRA spokesman Andrew Arulanandam. "We've had this event for many, many years without incident."

State law allows people to carry a firearm as long as it's licensed in Indiana or another state. Indiana law also stipulates that firearms can be carried in the convention center and Lucas Oil Stadium unless the renter or user of that space stipulates guns not be allowed at the event.

The National Football League, for instance, doesn't allow guns at its games; therefore, no guns at Indianapolis Colts games at Lucas Oil Stadium.

Colts fans are required to pass through a metal detector, but sources familiar with discussions between the city and the NRA said NRA officials asked that metal detectors not be used at its events.

It's assumed, one source said, that many NRA members will be carrying firearms and that NRA officials think a metal detector would slow entrance into events. Besides, the source said, NRA officials don't like their members being scrutinized for carrying a firearm—a freedom they fight fiercely to maintain.

Dora, the hotelier, isn't concerned.

"The NRA is a solid organization that offers great firearms training and education," he said. "The typical NRA member is a good, law-abiding citizen."

Most hoteliers do not prohibit patrons from carrying guns and said they have no plans to even ask their NRA guests if they are carrying a gun.

"Our hotels are just like your home," Dora said. "Anything you can legally do at home, you can do at a hotel. I, as a hotelier, can't violate your constitutional rights any more than anyone else can."

Demonstrators in their place

Another unusual concern for the NRA show is the possibility of demonstrators surrounding the convention center. NRA officials said securing the area and dealing with demonstrators will be the responsibility of local law enforcement. Sources close to the NRA said the association also has its own security plan.

Marc Lotter, spokesman for Mayor Greg Ballard, isn't concerned about protestors.

"Indianapolis is not inexperienced at dealing with these types of [protestor] groups, including right up the street at the Statehouse," Lotter said. He added that city officials will work to keep everyone safe but will not inhibit anyone's right to free speech. NRA officials, too, said they have no desire to inhibit protestors.

"We respect their First Amendment rights and we'd expect that they would respect our First and Second Amendment rights," NRA's Arulanandam said.

A smattering of protestors showed up in Houston last year, but Houston officials said they weren't a major problem. Sources familiar with the NRA's plans in Indianapolis said NRA officials prefer that an area be designated for protestors that will keep everyone safe and not impede NRA members from entering and exiting the show.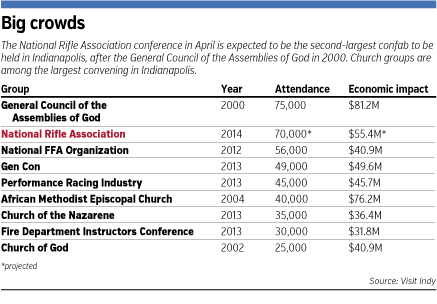 "They have no plans to shove demonstrators in a corner and out of sight," one of the sources said. "They'll give them a visible platform. They just don't want demonstrators scattered all over the place."

Quiet entry?

It's not clear how much the NRA will trumpet its Indianapolis show to the general public. Many large conventions put up signs and banners around town during their shows. Gen Con even constructed a large, colorful dragon as well as an information booth at Indianapolis International Airport and bought other paid advertising to greet and direct visitors to their show.

Local airport officials say the NRA has no such plans. Visit Indy officials said they don't know if the NRA will put up banners on the convention center or along downtown elevated walkways—a common practice with other groups announcing their arrival.

NRA officials have been strangely hushed about their show here. While the NRA has advertised the show to members, it did not hold a local press conference or make any announcement to Indianapolis media, as sources said Indianapolis officials desired.

Some in the hospitality community said the NRA has kept things quiet to avoid drawing the attention of anti-gun demonstrators.

Blue to white collar

Local hoteliers, restaurateurs and retailers are likely more concerned about what's in NRA members' wallets than what's in their holsters.

Businesses have become deft at predicting where convention attendees will shop and eat. Gen Con attendees, for instance, love casual sit-down restaurants like Champps and BW3. They also are known to drink a fair bit of beer and wolf down a sizable number of pizzas. Restaurant managers said Gen Con attendees put a premium on service and are often some of the best tippers.

The large contingent that comes to town for the National FFA Organization—formerly Future Farmers of America—loves fast food and swarms the food court at Circle Centre mall. FFA members also funnel a fair bit of money into Circle Centre stores, especially teen-oriented clothing stores and athletic shoe and apparel shops.

"We know [the NRA] is a very large group with enormous purchasing power, but I'm not sure it's been determined exactly where they'll spend their money when they're in town," said Visit Indy CEO Leonard Hoops. "We think you'll see a broad range of spending habits."

Arulanandam said "attendees run the gamut from blue collar to white collar."

In 2013, 81 percent of the show's attendees were men, 58 percent were hunters, and 71 percent spent more than $500 a year on shooting and hunting equipment, according to the NRA.

Arulanandam said NRA show attendees come from "around the world and the four corners of the U.S." A study conducted at last year's show showed that 43 percent of attendees traveled more than 200 miles, he said. The majority will spend at least two nights in a hotel, Arulanandam added.

Last year, Greater Houston Convention & Visitors Bureau officials said they booked 25,000 hotel room nights and project another 10,000 were booked outside their system. In Indianapolis, 38 hotels are holding rooms, and Visit Indy officials think almost every hotel in Indianapolis and surrounding counties will be sold out.

No boost for local gun shops

While it's difficult to say which stores and restaurants will be financial winners, curiously, gun shops and firing ranges are not likely to get a boost in business. At least it didn't happen in Houston.

"In terms of guns and related items, the show is self-contained," said A.J. Mistretta, Greater Houston Convention & Visitors Bureau public relations manager. "People come to see the show and don't really have any reason to go to another gun store."

Thousands of guns will be on display—the NRA requires their firing pins be removed for safety purposes—but no guns will be sold, "primarily for logistical reasons," Arulanandam said. It would be difficult to transport and store the number of guns needed to meet demand.

Instead, he said, orders are taken at the show, and equipment is shipped to buyers. That method also gives gun dealers a chance to perform mandated background checks.

Engaging scene

Mistretta emphasized that just because NRA members are there primarily to see the show doesn't mean they're not spending money around town.

"Because of the sheer size of the event, it was definitely an engaging scene," he said. "The areas around the convention center and the entire downtown were certainly bustling during last year's show."

Mistretta added that the show drew "a good cross-section of folks" and that numerous Houston restaurants and merchants reported being "very, very busy during that weekend."

Greater Houston Convention & Visitors Bureau reported nearly $53 million in direct visitor spending. Economic impact—which uses a multiplying formula—would have been in excess of $65 million, Houston officials said.

NRA officials aren't convinced Indianapolis will attract as many attendees as did gun-friendly Texas. But Arulanandam said the NRA has strong Midwest membership, and local officials think Indianapolis' central location could help draw a larger crowd than anticipated.

NRA bigwigs were so impressed by Houston's hosting job that they're already asking the Texas city to bid for the show again. Houston is thrilled at the opportunity, Mistretta said. And no wonder. Houston saw the number of attendees grow by about 30,000 from the first time it hosted the show in 2005.

"I don't know that we'll see that kind of growth again, but it's a show obviously with tremendous upside," Mistretta said. "We think it's an alluring piece of business for just about any convention town big enough to handle it."

Winning a repeat visit from the NRA isn't easy. Only four cities—Charlotte, N.C.; Houston; Pittsburgh; and St. Louis—have held two NRA shows in the last 15 years. Indianapolis hopes to take a step in that direction this year. •