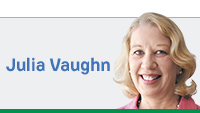 Allowing legislators to draw their own districts is like the NBA allowing the home team to hire its own officials; it would be an obvious conflict of interest that would discredit the process and lead to unfair play. That's why redistricting reform tops Common Cause Indiana's legislative agenda and why I'm pleased that the House took action early this session by passing House Bill 1032.
Now that the General Assembly has started the second half of its session, advocates for reform face two challenges.
First, we must convince substitute Chairman Joe Zakas of the Senate Elections Committee to give H.B.1032, legislation that would create a redistricting commission, a hearing.
Second, the legislation must be amended to ensure the proposed bipartisan commission be truly independent of legislative control and that their goals include maximizing the number of competitive districts for Congress and the Legislature.
As it passed the House, HB 1032 calls for a five-member commission to draw new districts after the federal census. Four members would be named by the four legislative caucus leaders and would presumably share their political affiliations. These four would choose the fifth member, who would serve as chair.
If they fail to agree, the chair would be chosen by the chief justice of the state Supreme Court. Commission decisions would require unanimous votes.
Call me cynical, but I've got big concerns about just how independent these legislative appointees will be. While I appreciate the nod to neutrality by creating a process that forces the four to agree on a chair, the bill would be improved by adding language that would require the chair to not be a member of either major political party.
And, while the bill would prohibit current elected officials, lobbyists and appointed officials from membership, it reaches back only six years, making plenty of politicos eligible.
Another issue is the size of the commission. Redistricting commissions should reflect the state's geography, race, gender and ethnic diversity. Commission membership should be expanded to nine and language should be added to encourage diversity.
While legislative supporters of redistricting reform talk about a "bipartisan commission," what they should strive for is an independent commission. And while it's not a typical state for Indiana to follow, California has devised a unique and ingenious selection process that makes its redistricting commission as independent as possible and gives non-politically connected citizens opportunity to participate by taking the Legislature out of the appointment process completely.
Who the members of the redistricting commission are and how they are selected is a major factor in its credibility and, ultimately, how the maps they create will be judged and how well they will serve voters.
One of the most compelling pieces of evidence that our current maps are gerrymandered is the decline of competitive districts since the last round of redistricting in 2011. It's no surprise that since Republicans controlled both chambers of the Legislature and the Governor's Office in 2011, the maps they drew helped them grow super-majorities in the House and capture seven of the nine congressional seats.
Given that our state's partisan divide is approximately 54 percent Republican and 46 percent Democrat, it's clear that Republican mapmakers carefully sliced and diced the electorate to enhance their candidates' chances of winning.
The problem is that too many safe districts leads to unresponsive lawmakers from the edges of the political spectrum. Directing an independent redistricting commission to draw maps with more competitive districts will be good for voters and good for Indiana's future.•
__________
Vaughn is policy director for Common Cause/Indiana, a nonpartisan citizens lobbying organization that works for open, honest and accountable government. Send comments to ibjedit@ibj.com.
Please enable JavaScript to view this content.