Gov. Pence has proposed pre-kindergarten vouchers for low-income children that could be applied to public or private institutions. Do you support the idea?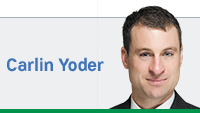 As the General Assembly works through the 2014 session, a familiar issue has risen to the forefront of discussion and debate. It's the idea of providing funding for children to attend pre-kindergarten programs.
The latest attempt to expand pre-kindergarten is House Bill 1004. This bill would develop a pilot program to provide scholarships to low-income children to attend preschool.
On its surface, the idea sounds great because it allows Hoosier children to have educational opportunities their families might not be able to otherwise afford. Unfortunately, the reality is not as favorable.
It's important to note that Indiana and our federal government already participate in and help fund pre-kindergarten programs.
Let's begin with analyzing the Head Start program, which was started by the federal government. This program does not generate enough positive results for the costs to operate.
The current tab for taxpayers from Head Start has grown to more than $185 billion, but studies show that any gains made by children who participate in the program disappear before they reach third grade. With this startling reality in mind, Indiana lawmakers think they can do better.
I am skeptical of this idea and wrestle with the fact that our government funds these types of unsuccessful programs.
As a legislator, I am expected to be responsible with Hoosier taxpayer dollars. Throughout dire economic times, Indiana has experienced a balanced budget. Lawmakers have been forced to make painful cuts to every area of government, so that our state remains fiscally solvent.
As our financial situation improves, General Assembly members have also worked diligently to restore funding levels to educational programs that experienced cuts during the recession.
However, every school administrator with whom I have spoken feels they need more money.
With these facts in mind, why would legislators even consider a new program within education at this time? It will take away our ability to fully fund Indiana's K-12 schools.
Under House Bill 1004, taxpayers would be asked to fund up to $30 million annually for this preschool program. The sad reality is that government programs only grow larger and take more resources over time. Indiana simply cannot afford the idea of preschool pilot programs, especially when legislators and citizens have every reason to doubt their effectiveness.
If parents want to send their child to preschool on their own dime, they have every right to make that judgment call. The problem is that some parents want other taxpayers to foot the bill for their decisions.
Instead, our Legislature should focus on ensuring Hoosier children get the best K-12 education possible by providing parents with options and supporting teachers who help prepare children for future success.
Let's not get sidetracked from our core mission by creating new government programs that burden Indiana residents.•
__________
Yoder is ranking member of the state Senate Education and Career Development Committee. He is a Republican from Middlebury representing District 12. Send comments to ibjedit@ibj.com.
Please enable JavaScript to view this content.