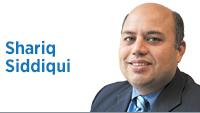 The recent decision by the Plainfield-based Islamic Society of North America to support the Employment Non-Discrimination Act has created concern among some Muslim Hoosiers.
The act opposes discrimination against someone who is gay, lesbian, bisexual or transgendered because of their sexual preference. Some Muslim Hoosiers see this as an endorsement of a GLBT lifestyle, which many Muslims believe is not permitted in Islam.
These concerns raise important implications for the position of Muslim Hoosier faith leaders on House Joint Resolution 3, which would add the definition of marriage as being between a man and woman in the Indiana Constitution.
Many Muslim Hoosiers believe Islam prohibits sex between people of the same gender or people who are not married to each other. These Muslim Hoosiers feel like the non-discrimination act or opposition to HJR 3 endorse such a lifestyle.
I am a devout Muslim and understand my faith to not permit such a lifestyle. However, I have witnessed my many friends who are engaged in long-term loving and committed GLBT relationships raising wonderful children.
My opposition to HJR 3 or support for the non-discrimination act have little to do with my faith or my friendships. They are based upon our nation's founding principles.
Thomas Jefferson disliked Islam and Muslims. But Denise Spellberg argued vociferously in "Thomas Jefferson's Quran" against the definition of American citizenship to exclude Muslims. Jefferson and his allies perceived Muslims, whom they disliked, as being equal citizens in the United States but did not hold a similar view of non-whites or women.
Their personal likes or Christian beliefs may have guided their values but did not dictate the writing of our Constitution and laws. The group could easily have written into the Constitution that Christianity would be the basis of all laws.
Jefferson's fight to uphold the right of Muslims to become equal citizens (and even serve as president) resulted in negative campaign attacks during his quest for the presidency as being a "closet Muslim." In fact, according to Spellberg, to many of his opponents, Jefferson may have been our first Muslim president.
Jefferson's defense of Islam and Muslims was not because of a belief in the faith. It was despite his disdain for the faith. It was in keeping with the principle that our nation should not discriminate on this basis.
I love and live my faith. From the dawn prayers, to the late-night prayers, to the fasting and charity—it defines much of my life. I take for granted the interpretation of the majority of mainstream Islamic scholars that Islam does not permit marriage outside the bounds of a man and woman, and furthermore prohibits GLBT relationships.
My faith also asks me to have love, friendship and compassion for all people. I will therefore continue to maintain my close friendships with people regardless of their sexual orientation.
However, the non-discrimination act and HJR 3 are not a question of whether our faith permits such relationships. They are about whether society should treat people differently.
As a Muslim, I rejoice in Jefferson and the Founding Fathers' fighting to ensure I would not be treated differently. I owe it to members of the GLBT community that they should not be treated differently.
I look across the world and see how societies can be upended when all citizens are required to adhere to the religious and moral values of the majority. I support the act and oppose HJR 3 not because of my moral or religious values but because of my civic values.•
__________
Siddiqui is an attorney, doctoral student at Lilly Family School of Philanthropy at Indiana University and publisher of Siddiqui Public Affairs Review. Send comments to ibjedit@ibj.com.
Please enable JavaScript to view this content.