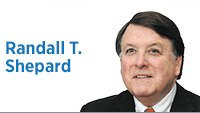 Recent debates in the General Assembly about inspecting apartments for safety and sanitation purposes has highlighted the need for more energetic collaboration between state government and the people who lead cities and towns.
Legislation has advanced that largely bars local governments from doing regular inspections of apartments units to assure they meet fire safety codes, sanitation standards and the like—as long as an inspector hired by the apartment owner has certified that the apartment meets all the applicable requirements.
Hammond Mayor Thomas McDermott has called this prohibition on municipal housing inspections "the slumlord protection act."
To be sure, there have been legitimate complaints and counter-complaints in the field of safe rental housing. Bloomington has had a reputation for enacting particularly stringent and potentially expensive requirements, responding to the risk that off-campus students might be subjected to substandard or even dangerous living conditions.
And, as with just about all fields of human endeavor, most of the participants (in this case, apartment owners) are reliable players. Most of them strive to maintain decent, safe and sanitary units.
Still, we don't usually pass laws because we fear that most people won't behave responsibly. Rather, we pass such laws to rein in the small minority who won't operate according to the regular norms of society.
That such owners do actually exist was highlighted recently by stories about a large apartment complex owned by a limited-liability company based in London. Most of the units were uninhabited or uninhabitable. Frozen pipes were spewing water in multiple units. One occupant who lives on disability reported she hadn't had hot water in six days. After an inspection, Marion County's health and safety authorities ordered the complex closed.
Whether local municipalities may subject such landlords to regular scrutiny is a matter wholly within the authority of the General Assembly. The Legislature's general approach in recent decades has been to afford cities and counties fairly wide discretion in responding to local opportunities and problems (though taxing authority has largely been an exception to this policy).
The public is well served by affording local officials broad latitude.
Legislators and local officials, both serving by election, of course, have multiple opportunities to interact with each other. Many of these are informal occasions, like forums conducted at home by legislators and meetings of the Indiana Association of Cities and Towns to which legislators are often invited.
There are relatively few formal platforms where state and local officials can conduct ongoing dialogues and analyze problems with the help of researchers.
One of these is the Indiana Advisory Commission on Intergovernmental Relations, a statutory body consisting of local elected officials from all levels of government, citizens and state officers, and a substantial collection of legislators. The Public Policy Institute at Indiana University's School of Public and Environmental Affairs acts as the commission's research staff.
The commission spends time on both specific and more global concerns. For example, it has been a central venue for fashioning a better-organized 911 emergency system. And it regularly surveys local officials to determine what issues are the most pressing (recently, those officials have been identifying things like business attraction/retention, drug crime, streets and roads, and abandoned properties).
The current debate over assuring safe housing should reinforce the need for structured and ongoing communication about Indiana's local government services.•
__________
Shepard, formerly Indiana chief justice, is executive in residence at IU's Public Policy Institute, a research arm in the School of Public and International Affairs. Send comments to ibjedit@ibj.com.
Please enable JavaScript to view this content.