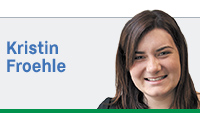 Whether in the State of the Union address, recent commentaries about college tuition outpacing financial aid, or news about Purdue University's possibly extending its tuition freeze, one thing is certain. The status quo is not acceptable when it comes to cost and access to a college education.
Of late, the "college" conversation centers on ensuring that a university education is a possibility for all. While I don't deny that access to education is important, one problem remains even if we can get more students to pursue college education: how to handle the cost associated with college.
Many argue that college debt is a natural cost to be borne, and that college pays for itself in the long run. That's true, but in the short run, recent college grads may not be able to hold out for the long-term payoff.
A student deciding to attend an in-state public institution like Indiana University still faces annual tuition of just over $10,000. Add in transportation, personal expenses, room and board, and books, and Indiana University's website estimates that I will spend approximately $23,000 per year on school.
Multiply that by four years and said student is looking at a total price tag of $92,000.
Some say scholarships and financial aid more than provide opportunities for students to avoid debt. But opportunities aren't available to all. An average student with loans at IU has about $28,000 of debt, even after financial aid awards, on their hands upon graduation.
Compare that to the average salary for Indiana students after graduation, about $33,500, and we've got a problem.
The reality of debt most likely won't be discussed with students as we give them opportunities to attend college. There are no courses to tell students how to pay off debt, how to approach the first few years after college.
Not only are we not telling students that debt is a reality, we also aren't equipping them with the proper tools to handle this debt upon leaving the university setting. If we are going to send more students, ones who might not have thought about the experience before, to college, they have to know the facts.
Certainly, we can all agree that there is an inherent value to a college education. Some studies, like one performed by the U.S. Census Bureau, even suggest that an individual's net worth increases about $1 million over his or her lifetime with a college education versus a high school education. I want students to go to college, realize those earnings, and create better lives for themselves.
But I don't want them stuck in so much debt at age 22 that they aren't able to realize that potential. Because right now, debt is the glossed-over part of the college pitch, cloaked in words like "financial aid," "scholarship opportunities" and "affordable education."
Are we telling low-income students we so desperately want to give access to a college education that they will come out of the experience with $30,000 in debt? Are we preparing them to budget to pay off that debt? Are we proving to them that the short-term debt is worth the long-term rewards?
We are waving the flashy "ticket" to college in front of students' faces, but we seem to be forgetting that the ticket itself—though it may be worth it years from now—is not free of charge.•
__________
Froehle is a senior and Wells Scholar at Indiana University majoring in business, and a former White House intern. Send comments to ibjedit@ibj.com.
Please enable JavaScript to view this content.