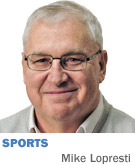 James Naismith, the father of basketball, once called Indiana the center of the sport. And he never even saw "Hoosiers." So maybe we'd better drop him a note and break the news about how this college season has been going.
Dear Dr. Naismith,
Hold on to your peach baskets, but the center of your sport is having a tougher winter than Atlanta's salt-truck drivers. At least in Division I college basketball. After the second weekend of February, Butler was tied for last in the Big East, Ball State was tied for last in the Mid-American Conference, Evansville was tied for last in the Missouri Valley, IUPUI was last in the Summit League.
There were more Indiana teams in the cellar than there were Christmas decorations.
Indiana was tied for eighth and Purdue 10th in the Big Ten, and Notre Dame was tied for 11th in the ACC. Through Feb. 11, the combined conference record of Indiana, Purdue, Notre Dame, Butler, Ball State, Evansville and IUPUI was 18-58. The Milwaukee Bucks might not finish with a record that bad.
If this keeps up, when the NCAA committee meets next month to stock its tournament, the members won't spend any more time talking about the state of Indiana than they will about the state of Hawaii. Except for maybe Indiana State, as one of the best Missouri Valley teams. Or Indiana Purdue Fort Wayne, which is fighting for the Horizon League lead.
Yes, come Selection Sunday, the state might have to turn its lonely, desperate eyes to the Mastodons—or else have fewer teams in the field than North Dakota. And to think, the NCAA puts together its bracket in an Indianapolis hotel room. It's like not getting invited to your own party. Only one of the past 41 NCAA Tournaments has been Indiana-less, by the way. That was 2005.
What in the name of John Wooden is going on in Indiana? There isn't any one clear answer.
I can tell you, Doctor, that the Indiana Hoosiers are ranked among the finest teams in the nation. In baseball. The bad news usually starts in basketball when they put on red uniforms. They lost four of their first five true road games, including Nebraska. It's not uncommon to see the Cornhuskers beat Indiana, but usually touchdowns are involved.
Through 23 games, the Hoosiers had committed 62 more turnovers than the opposition. Sounds like a young team. Which it is.
Has Wooden been asking about his alma mater? Tell him Purdue has been known to have a little trouble finding the hoop. At last count, the Boilermakers were 265th in the country in field-goal percentage.
But they've been on fire compared to Ball State. There are nights the Cardinals probably couldn't hit the White River from the bridge on Wheeling Avenue. Through 21 games, their 39.8 field goal percentage was 333rd nationally out of 351. Hence, the 4-17 record.
I know what you're thinking. Whatever happened to Jimmy Chitwood?
In its ACC rollout, Notre Dame beat Duke, then dropped eight of its next 10 conference games. The Irish spot in the preseason top 25 went the way of short basketball pants.
As for IUPUI, it's never good news if, after 26 games, you have just as many victories as you do initials in your name.
Then there's Butler. Doctor, if you think fraternities can be merciless in initiating new members, you should see what the Big East is doing to the Bulldogs. One game after another seems to be there to be won, then vanishes. Butler leads the league in overtime games and mirages. The Bulldogs are 2-10 in the Big East and have led in the second half in five of their losses.
That can drain a team, and it looked like it might have the other night, when Xavier plastered Butler 64-50.
"I think it's probably a difficult task to get your kids energized and ready to play when you go heartbreak after heartbreak after heartbreak," Xavier coach Chris Mack said.
He was being nice, but Butler coach Brandon Miller was not looking for excuses.
"There are ups and downs in a season," he said. "You have to be able to handle the good with the bad."
I don't know if this season is just a blip, or a sign of too many recruits leaving the state, or what. Michigan State and Michigan are atop the Big Ten, and they have one important player each from the same Indiana high school, Hamilton Southeastern.
Maybe someone from Indiana will break through in the end, but you needed to know, since time is running out. In case anyone brings up that center-of-the-sport business, just steer the subject to Division II.
Last we checked, the University of Indianapolis was 19-2.•
__________
Lopresti is a lifelong resident of Richmond and a graduate of Ball State University. He was a columnist for USA Today and Gannett newspapers for 31 years; he covered 34 Final Fours, 30 Super Bowls, 32 World Series and 16 Olympics. His column appears weekly. He can be reached at mlopresti@ibj.com.
Please enable JavaScript to view this content.