The Ford Thunderbird had a style all its own. And while the brick interior walls, funky lighting and exposed beams of Thunderbird (1127 Shelby St., 974-9580) might not be as original, Fountain Square's newest nightspot seems built to last, fitting comfortably into the neighborhood while carving its own niche with creative drinks and unexpected entrees.

No question, the emphasis here is on craft cocktails, with such T-Bird Original offerings as the Slapped Actress (vodka, apple brandy, lemon, lime and sugar) and Boneshaker (bourbon, Averna, Amaro, lemon, sugar, heavy cream and egg) tempting those with $9-$11 to drop on a drink.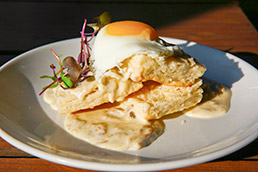 Biscuits come slathered in duck-neck gravy at Thunderbird.(IBJ Photo/ Aaron P. Bernstein)
For me, the primary lure was the interesting food lineup, sporting a decidedly southern accent in portions sized in that nether region between full entrée and tapas, including Hush Puppies ($6), Croquettes ($6), Shrimp & Grits ($10) and Biscuits & Gravy ($10), all looking tempting on the one-sheet menu. On a crowded Saturday night, friends and I opted for the B&G—after all, where else can you find quality biscuits and gravy at 11 p.m.? The Thunderbird version features a substantial house-made biscuit—neither overly fluffy nor overly dense—topped with duck-neck gravy and a fried egg. The dish proved the undisputed winner of the evening.

We had mixed feelings about the Chicken and Hoecake Sandwich ($10), although we agreed on how much fun it is to say "hoecake." I found the fried buttermilk chicken thigh, smoked cheddar and bacon honey butter a textural treat, especially when softly sandwiched in the cake. A guest, though, thought it needed another element and wasn't satisfied with the dab of pickled items barely siding it.

We agreed that the Fried Golden Beets ($10) would

have been better as a smaller side dish instead of being ambitiously presented as an entrée. Goat cheese, radicchio, slivers of pears, pistachio and a stone ground mustard vinaigrette sounded good on paper, but failed to excite on the plate. Some of the best supporting actors, remember, disappoint when playing leads.

As a side dish, we tried the Corn Bread ($4), which, even with a tasty spiced maple syrup, seemed to be resisting asserting its flavors. Other options include Fried Black Eye Peas, Crisp Hominy and Pickles (each $4).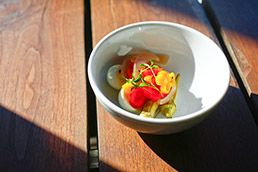 When you order Pickles, don't expect standard burger toppers. (IBJ Photo/ Aaron P. Bernstein)
The kitchen was already out of both house desserts—An Upside-Down Pear Cake with Whipped Cream ($4) and Beignets ($4)—by the time we attempted to order.

I should warn you that Thunderbird doesn't serve lunch, instead opening at 4 p.m. each day. Of course, if you are having biscuits and gravy at 11 p.m., traditional meal times are irrelevant.•

—Lou Harry