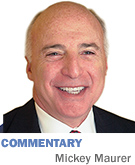 Did you hear what happened in Massachusetts when they voted to allow same-sex marriage?
Nothing!
God did not wreak his vengeance upon this abomination. Nobody turned to salt.
Nothing!
Nothing happened except James Giessler left Indianapolis and moved to Boston. He is living happily ever after with Tim McGinley, whom he married in 2010 on the Fourth of July. It was their 20th anniversary.
Giessler had resigned his position as executive director of The Wellness Community of Central Indiana because of the general political climate here, which he described as "toxic."
His partner had some health issues, and Giessler was concerned. Because Indiana does not recognize the union of same-sex partners, he was justifiably afraid that the Giessler-McGinley relationship would not be recognized if contested by a biological family member. In that event, hospitals could have legally denied visitation and even worse, could have denied Giessler control over health decisions for McGinley if he were ever incapacitated. Can you imagine being denied the right to have a say in care for your loved ones or even to visit them in the hospital?
Giessler is employed as executive director of the Harvard Glee Club, America's oldest college chorus, a group that performs in concerts regularly throughout the world—in concert halls and schools and churches, live and on recordings. Giessler is an able executive. The Wellness Community misses him. Indiana misses him.
Corporate Indiana has testified to the adverse economic effect of restricting marriage rights of same-sex couples and the attempt to embody this hate law in the Indiana Constitution. These corporations recruit from a pool of young prospects, heterosexual or otherwise, a demographic that polls highly in favor of gay marriage.
The youth of our nation sees no issue here and would probably not favor a move to a state intent upon yanking the welcome mat out from under a potential employee because of his or her sexual orientation. That's not cool.
Now there is evidence. In a recent article in Nuvo, Rebecca Townsend cited the work of Jeramy Townsley, an adjunct professor with IUPUI's Department of Sociology, who discovered actual data supporting the proposition that an anti-gay atmosphere results in real job loss. Townsley also teaches at Butler and has taught statistics at IUPUI.
Townsley said that after he ran the analysis through his software, what he found personally shocking: an insanely high number of firms and jobs lost after passage of a major anti-gay law or high court ruling.
Faced with hard evidence, you would think our politicians—who have stated many times that their primary interest was jobs—would abandon this cruel crusade. Don't count on it from the Republican tea party contingent, a narrow-minded homophobic cabal.
Sometimes it takes people like Jim Giessler to personalize an issue.
Speaking of people, who is your state senator? Mine is Mike Delph, a man who Victor Hugo might have described as " … doubtless a good father, a good husband, really not ambitious, but, bad," Claude Gueux (pub. 1834).
Delph has consistently supported a ban on same-sex marriage. His stale refrain is, "Let's put it to a referendum and let the people decide." Although Delph has a law degree, he fails to understand the raison d'être of the Bill of Rights—protection of human rights from oppression of the majority.
We are not debating raising taxes on tomatoes. This issue is worth shouting about. It is worth getting personal. Let's root out Delph and find a candidate who believes in America's core values but advocates fair treatment for all.
There should be no room for class hatred in the Indiana Republican Party.
In Nigeria, homosexuals are punished with 20 lashes from a leather whip. In Indiana we lash the gay community with intolerance and bigotry. Good people of my district, let's take the whip out of Mike Delph's hands.•
__________
Maurer is a shareholder in IBJ Corp., which owns Indianapolis Business Journal.  His column appears every other week. To comment on this column, send e-mail to mmaurer@ibj.com.
Please enable JavaScript to view this content.