As Scott Davison steps into the shoes of OneAmerica's retiring CEO Dayton Molendorp, who led a massive expansion of the company in recent years, he'll be challenged to keep growing pains at a minimum.

Davison
Davison needs to make sure the footprint of people peddling its policies and retirement plans grows. He needs to see that computer systems are updated to make it easier for agents and customers.

And the company's 1,500 employees need to keep up with OneAmerica's increasing scale.

"We've got to develop the people we've got because we're much larger now. We need to rise to the challenge of working in a more complex, bigger environment," said Davison, 49, president of OneAmerica.

In fact, OneAmerica's digestion challenges are only likely to grow.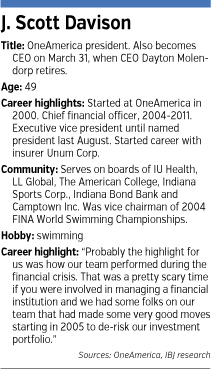 It has $36 billion in assets under administration currently, in part thanks to the 2010 purchase of Indianapolis employee benefits firm McCready & Keene. In one swoop, that deal added $7 billion in assets.

"By 2016, we want to be a $50 billion company," Davison said.

Yet, "we've got to stay true to what made us great. That's staying true to our values. We're a mutual insurance company so we're owned by our policyholders so we're mission first, not money first."

Rough translation: This isn't some publicly traded company with a belly for big risk. Recall the former Conseco Inc., the Carmel-based insurer that went on a growth tear in the 1990s that included buying mobile-home lender Greentree Financial. Conseco's ill-fated diversification strategy in 2002 culminated in the nation's third-largest Chapter 11 filing.

OneAmerica, the parent of American United Life Insurance, has remained diversified, although somewhat less so than in the past. Ten years ago, its retirement services division, which includes 401(k) and 403(b) plans, amounted to 56 percent of premium income. That was followed by individual products (life insurance) at 27 percent, and employee benefit products such as voluntary group life and disability, at 13 percent.

By the end of 2012, retirement services generated 71 percent of premiums, followed by individual at 25 percent and employee benefits a smaller 4 percent.

Indianapolis-based OneAmerica has grown its dominant retirement services business so much that it ranked in the top 20 of 401(k), 403(b) 457 plan providers in its markets, according to insurance ratings service A.M. Best.

"McCready & Keen has just put booster rockets on our growth in our retirement plan business," Davison said.

He becomes CEO on April 1 in place of Molendorp, who will remain chairman.

Another key acquisition he points to was the purchase of Golden Rule Insurance's financial service division, in 2005, which brought life and annuity products for long-term care.

But OneAmerica's smallest division, employee benefits, appears to be the problem child. It sells traditional and voluntary group life and disability insurance, mostly to small and medium-size employer groups. It reported an operating loss in 2012 "due to higher mortality and morbidity, and its top-line revenue growth had contracted," A.M. Best said in its most recent report, last May.

Best said OneAmerica has been making changes in this line to become more competitive in the way it distributes the products, although uncertainty involving health care reforms and health exchanges keeps things unsettled.

Davison said the unit made money in 2013. "We got that turned around. That's our smallest business by a pretty insignificant amount."

According to A.M. Best, OneAmerica will continue to face competition from other life and annuity companies with "considerable scale and market penetration."

Still, at least as far as the company ranks among the 15 largest U.S. mutual companies, "during Dayton's tenure we've been the fastest growing."

Davison said the company will have finished 2013 with another "strong year" for profit. He also said sales hit a record $2.4 billion, up 8 percent over 2012. That year, profit was $110.1 million.

Much of the sales growth has been driven by employer-sponsored retirement-plan offerings, which generated $1.3 billion in 2012.

Sales in the retirement business grew 10 percent last year.

Part of that growth has required technology upgrades and process improvements to make it easier for field representatives and consumers. Davison expects OneAmerica to add a net 40 to 50 jobs this year. OneAmerica employs about 1,500 people, with 1,300 of those in central Indiana.

Some of the growth is likely to come through additional acquisitions, including on the retirement-plan side.

One reason OneAmerica will be able to make acquisitions is that it weathered the financial crisis in a lot better shape than many competitors, particularly in its investment portfolio.

In 2005, the company had the good sense or luck or both to "de-risk" its investment portfolio. So at the depth of the financial downturn, "I think our total loss was about $300,000," said Davison, who spent those dark years as the company's chief financial officer.

"What that enabled us to do was to actually become very aggressive at that time. We didn't have any bullet holes, so we were able to invest in assets that were on sale, so that was very helpful to our policyholders."

He credits people like John Mason, the company's chief investment officer. "He's only our fourth one since World War II. So we've had pretty good consistency."

Davison joined OneAmerica in 2000, after it acquired a reinsurance line of disability insurer Unum Corp.

"I came with the furniture—fully depreciated," Davison said.

He joined Unum shortly after graduating from Middlebury College, in Vermont, as a history and econ major. "We actually had one accounting course, taught by a 65 year-old stand-up, Vermont comic. Great class. It was hilarious."

He later earned an MBA—probably a smart move given Middlebury's lineup at the time.

Davison sits on a number of boards, including those of IU Health, Camptown Inc. and Indiana Bond Bank. He's also a vice chairman of Indiana Sports Corp.

Davison apparently was quick to make an impression on the godfathers of local business. Joe DeGroff, a vice chairman of Indiana Sports Corp. and retired Ice Miller attorney, remembers that no less than Jim Morris, president of Pacers Sports and Entertainment, recommended that he speak with Davison about a role at ISC.

Davison "is a good listener. He makes decisions without being like Gen. Patton," DeGroff said.

What little spare time Davison has these days is usually spent at the swimming pool.

"I'd rather go for a swim than play golf," Davison said. "I work in the insurance business. How crazy are you going to get?"

OneAmerica's other companies include American United Life Insurance Co., Pioneer Mutual Life Insurance and State Life.•