Indianapolis Mayor Greg Ballard is acknowledging for the first time that efficiency alone can't solve the city's budget deficit.
In fact, his chief deputy has spent the past six months explaining to community and business leaders variations of this message: "We simply cannot cut our way out of these revenue problems. We need to attract people to live here because that's where they pay their income taxes."

Chief of Staff Ryan Vaughn
Those were the words Chief of Staff Ryan Vaughn used in a recent presentation to IBJ that previewed the mayor's Feb. 27 state-of-the-city address, which promises to be heavy on initiatives aimed at making the city a more attractive place to live.
Attracting new residents is the goal of almost every city, but it's urgent to Ballard because he faces yet another budget deficit, projected to be $40 million in 2015. Meanwhile, expenses for public safety and criminal justice continue to grow. They consumed 92 percent of the general fund in 2013, up from 84 percent in 2011.
That leaves little room for investing in roads, parks and other "amenities," Vaughn's presentation notes.
Although the economy is improving, Indiana's property-tax caps mean that a major source of revenue probably will remain flat, Vaughn said. The other major source of revenue is local income tax, but the base of earners isn't strong or growing fast enough.
A large portion of Indianapolis households, 27 percent, earns $25,000 a year or less, and middle-income earners are migrating out of the city as they approach child-rearing years. Only about 17.5 percent of households earn $50,000 to $75,000.
Marion County's total population has grown steadily since 1980, from 765,233 to 903,393 in 2010, but only outside the urban core.
Center Township's population declined over the same period 32 percent, from 208,624 to 142,787.
The city could raise its income-tax rate, but at 1.62 percent it's already higher than in most suburban counties, Vaughn said. While Ballard will work with the Indiana Legislature on securing another source of revenue, such as a commuter tax on those who live in the doughnut counties but work in Indianapolis, Vaughn said the immediate focus is on growing the income-tax base.

Lains
Netting 50,000 residents earning $50,000 a year would erase the city's budget deficit, Vaughn said. "That's really a math problem for us."
To be sure, none of Indianapolis' rust-belt peers have found the solution to Vaughn's "math" problem.
Bill Taft, executive director of the Local Initiatives Support Corp. in Indianapolis, said Indianapolis could be different if attracting and keeping middle- and high-income residents becomes a true policy focus.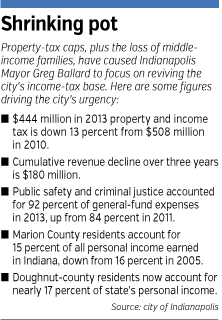 "Cities give lip service to wanting to attract more income to the city, but I don't think they necessarily align all those tools very rigorously," Taft said.
Taft said the presentation Vaughn has made to CEOs and industry groups is a good first step toward selling quality-of-life initiatives as an economic-development tool.
"For people who think about urban vitality all the time, this is not new information," he said. "I don't think CEOs spend a lot of time thinking about this kind of thing—the impact of population and development patterns on the city's budget and what that means for the city's vitality."
Steve Lains, president of the Builders Association of Greater Indianapolis, is, of course, well aware of Indiana's constitutionally mandated property-tax caps. But until he sat through Vaughn's briefing earlier this month, he didn't understand what that meant for the city's budget.
"It's like, 'Ah, I get it. I see that,'" he said.
Traditionally, economic development meant adding property value, Lains said. Now, it's focused on adding people. "It was a paradigm shift for a lot of people in the industry," he said.
With a focus on attracting residents, the city also will pay more attention to whether its housing stock aligns with market demand. That's something the builders association supports.
For the past decade, Lains said, "We have been touting that housing is a part of economic development."

Barth
Setting the agenda
Ballard first talked up the benefits of luring higher-income residents in July, during the unveiling of Flaherty & Collins Properties' proposed $81 million downtown apartment tower. Based on occupancy patterns at other new downtown developments, he said it would generate $500,000 a year in new income-tax revenue.
Yet even pulling off a single project that will draw high-earners is time-consuming and arduous. Flaherty & Collins still awaits City-County Council approval of a $17.8 million subsidy for the project.
And the half-million in income taxes that Ballard touted was a stretch on a best-case scenario. If 70 percent of the people who move into the tower are new to Marion County and have a $95,000 average income, the city will see nearly $485,000 in new income-tax revenue, Deputy Mayor for Economic Development Deron Kintner said in July.
"Of course, the problem is not with the math. It is with the economics of drawing in higher-income earners, and this is not a simple problem," said John Mikesell, Indiana University economist and government finance expert.
An easier way to raise the value of the tax base might be to reconsider property-tax abatement and other incentives.
"Maybe some of the entities now paying little or no property tax should be reconsidered," Mikesell said.
Neighborhood attention
Ballard's deputies would not disclose the particulars of the upcoming state-of-the-city address, but it's likely to emphasize neighborhoods and improvements to the things that make them more attractive – parks, transportation and schools.
Council Vice President John Barth said he's glad to see the mayor turn his attention from downtown to other neighborhoods, but he thinks public safety should be a higher priority.
"How do you value quality of life if people don't feel safe on their street?" Barth said.
In general, the council's Democratic majority might not find much fault in the Republican mayor's direction.

Taft
"I very much support the concept of bringing more people to the city," he said.
The arguments, however, lie in how to do that. Alex Ihnen, owner of the NextSTL.com blog about urban affairs in St. Louis, thinks cities should focus on attracting the millennial generation to make long-term population gains.
St. Louis saw its first net gain in the population of twenty-somethings because of millennials, Ihnen said. A certain portion of those people will continue living in the city after they turn 35, so the key is to get as many young people in the door as possible, then try to retain them, he said.
Ballard won't pretend to have all the answers to making the city attractive, Vaughn said. The administration is looking to members of groups like IndyHub, which promotes the city to young professionals, and IndyX, which promotes it to tech professionals, to create an advisory panel that will be independent of the political process.
Taft thinks Indianapolis set its own example in leveraging the 2012 Super Bowl to kick off revitalization of the near-east side. People who wouldn't normally be interested in neighborhood development got involved, Taft said. "It's a national example. We don't have to look at other cities. We have to do more of that."•
Please enable JavaScript to view this content.